May 25, 2009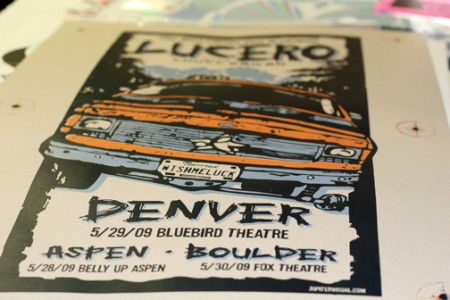 poster art by Denver's JupiterVisual
Lucero brings their whiskey-soaked cowboy punk to Colorado this weekend, with shows in Aspen Thursday, at Denver's Bluebird on Friday night and the Fox Theatre in Boulder on Saturday.
As I am wont to do, I've been trolling the internet in preparation for the show, seeing what Ben Nichols and Co have been up to since the 2006 release of Rebels, Rogues and Sworn Brothers (listen to "I Can Get Us Out Of Here Tonight" and sit back in bliss).
Lucero is currently prepping their major label debut, due out this summer with Universal Republic. I came across an acoustic solo version of a new song called, "Hey Darling, Do You Gamble" performed by Ben Nichols, as well as ten full-band Lucero songs from various shows over the last couple of years — all candidates to make it onto the new album. According to a friend who caught their recent San Francisco show at Slim's, "you'll hear more piano infused in the new stuff and, dare I say it, an upbeat attitude."
But listen first to this new song, which tells a story that Nichols teased out of a line from the Townes Van Zandt movie, Be Here To Love Me. I like listening to the raspy-voiced Ben telling of the interview with Townes' third wife, how she was won over when Townes walked up to her and simply asked, "Hey darlin'……do you gamble?"
For her, that was enough.

Hey Darling, Do You Gamble (solo acoustic) – Ben Nichols
"Oh and I believe that you should run with me, for a while…"

And here are ten other ones to consider:
Sounds Of The City – Lucero
Lonesome Dogtown Nights – Lucero
The Devil And Maggie Chascarillo – Lucero
Can't Feel The Pain (Never Learned A Lesson) – Lucero
Sixes and Sevens – Lucero
Hey Darling, Do You Gamble (full band, live) – Lucero
Darken My Door – Lucero
Johnny Davis – Lucero
What Are You Willing To Lose – Lucero
Goodbye Again – Lucero

Check Lucero out this weekend if you are here in Colorado, or on one of the other tour dates leading up to the summer release.
I hear Ben Nichols has also been playing some of his solo material from the Cormac-McCarthy-inspired album Last Pale Light Of The West. This is a very good thing.

LUCERO TOUR
May 26 – The Bourquet, Boise, ID *
May 27 – Urban Lounge, Salt Lake City, UT *
May 28 – The Belly up, Aspen, CO *
May 29 – The Bluebird Theater, Denver, CO *
May 30 – The Fox Theater, Boulder, CO *
Jun 2 – Waiting Room, Omaha, NE *
Jun 3 – Varsity Theater, Minneapolis, MN *
Jun 4 – The Picador, Iowa City, IA *
Jun 5 – The Tupelo Elvis Festival, Tupelo, MS (well heck!)
Jun 6 – Wakarusa, Ozark, AR
Jun 12 – NJ Maxwells, Hoboken, NJ
Jun 13 – NY Big Apple BBQ Block Party, NYC
Jun 18 – The Norva, Norfolk, VA
Jun 19 – Friday Cheers at Brown's Island, Richmond, VA
Jun 20 – The Grey Eagle, Asheville, NC
*with Chuck Ragan
[thanks to the good fans on the Lucero Message Board for gathering the tunes]