August 16, 2010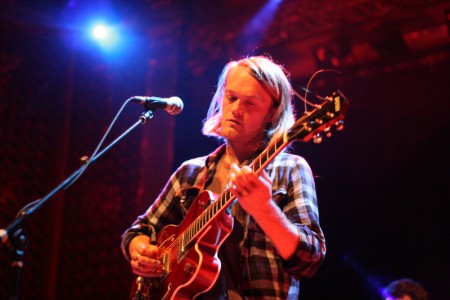 Five months ago, my friend Katie went to see Adam Haworth Stephens (of the San Francisco band Two Gallants) open for Rocky Votolato in Denver. I wasn't at the show, but was on my computer later that night when an email popped in from her, raving about how amazing the opening act was. I could almost feel her glowing through the internet wires from excitement at this young man and his piercing music.
With her permission, I turned that email into a post about Adam. He's been tearing up the touring circuit, wearing down the asphalt all across the US in the last few months, and last Thursday he finally came back through Denver, and I was there waiting with ready ears.
He was, in a word, phenomenally kinetic live. His well-crafted songs from an older acoustic EP sprouted muscles and all sorts of complex shading with the full band backing. The drummer was fantastic, and I pounded my hand against my thigh for almost the whole set. Their badass female bassist threw down solid basslines to anchor the melodies, and Adam sang with howl and conviction. The songs were riveting.
My charming British friend Paul asked me after the set what I was going to write about the show, why I couldn't stop smiling, why I loved it so much. I told him I felt like I was watching a special artist. NME wrote that Adam "shares the same spirit as a young, reckless Johnny Cash, or a pre-electric Bob Dylan." To that I would add a most obvious comparison to a twenty-something Neil Young, and of course the youthful intelligence of Conor Oberst (whose Nebraska label Saddle Creek is releasing Adam's debut solo album). Those are all lofty comparisons. I felt he merited them.

You can download the first song off his new album We Live On Cliffs (out 9/28) for free on his website in exchange for an email address:
STREAM: The Cities That You've Burned
Audio clip: Adobe Flash Player (version 9 or above) is required to play this audio clip. Download the latest version here. You also need to have JavaScript enabled in your browser.

He announced at the end of his set, "I'm Adam Haworth Stephens, and, uh, we don't have any music for sale tonight." You could hear a groan ripple through the audience. If you've seen him live and were won over like we all were, perhaps this out-of-print Vile Affections EP can help tide you over until Sept 28th when the full-length is released. I've been listening to this EP a lot lately. If these songs show up on the debut album, it will be so interesting to see how they've filled out.
VILE AFFECTIONS EP
Lead In Our Lungs
The Heights of Diamond
Bitter Angel
The Miles We've Marched
Your Weight
Going To Germany
Twitch and Tremble in the Breeze (bonus)
ZIP: VILE AFFECTIONS EP

I also hope the new album has this song is on it — it was one of my favorites live:

Second Mind (live at The Independent in SF) – Adam H. Stephens

Adam just announced a tour with The Felice Brothers ("Frankie's Gun" is still a song of theirs I never ever tire of, and this duet with Conor Oberst makes me deeply happy), which is a superb pairing. I adore The Felice Brothers. GO SEE ONE OF THESE SHOWS.
ADAM H. STEPHENS FALL TOUR
*w/ Blitzen Trapper*
Aug 17 – Spaceland, Los Angeles, CA
Aug 18 – Crepe Place, Santa Cruz, CA
*Headlining show*
Oct 2 – The Independent, San Francisco, CA
*w/ The Felice Brothers*
Oct 5 – Doug Fir, Portland, OR
Oct 6 – Tractor, Seattle, WA
Oct 7 – Media Club, Vancouver, BC
Oct 9 – State Room, Salt Lake City, UT
Oct 10 – Larimer Lounge, Denver, CO
Oct 12 – Waiting Room, Omaha, NE
Oct 13 – Triple Rock, Minneapolis, MN
Oct 14 – Turner Hall, Milwaukee, WI
Oct 15 – Empty Bottle, Chicago, IL
Oct 16 – Magic Stick, Detroit, MI
Oct 18 – Mr. Smalls, Pittsburgh, PA
Oct 19 – 123 Pleasant Street, Morgantown, WV
Oct 21 – Capitol Theatre, York, PA
Oct 22 – Rock and Roll Hotel, Washington, DC
Oct 23 – Johnny Brenda's, Philadelphia, PA
Oct 28 – Harper's Ferry, Boston, MA
Oct 29 – Met Café, Providence, RI
Oct 30 – The Chance, Poughkeepsie, NY
Oct 31 – MHOW, Brooklyn, NY
Nov 1 – Daniel Street, Milford, CT
Nov 3 – Jefferson Theatre, Charlottesville, VA
Nov 4 – King's Barcade, Raleigh, NC
Nov 5 – The Handlebar, Greenville, SC
Nov 6 – The Earl, Atlanta, GA
Nov 8 – The Social, Orlando, FL
Nov 9 – Club Downunder, Tallahassee, FL
Nov 10 – One Eyed Jack's, New Orleans, LA
Nov 12 – Emo's, Austin, TX
Nov 13 – The Loft, Dallas, TX
Nov 14 – Sticky Fingerz, Little Rock, AR
Nov 15 – Proud Larry's, Oxford, MS
Nov 17 – Headliners, Louisville, KY
Nov 18 – Southgate House, Newport, KY
Nov 19 – The Rumba Café, Columbus, OH

[other photos from the concert last week are on the Fuel/Friends Facebook page]