October 11, 2013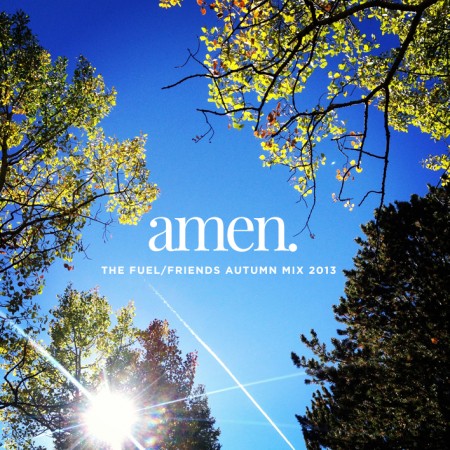 The "amen" title of this year's seasonal autumn mix is not a reverential reference to the mix itself, but a word that rose up on its own in two different songs, unplanned as I made the playlist. In the same way that 2011′s (super sad; sorry about that, guys) mix congealed into its own theme of rivers, bones, empty beds, and gospel backing vocals, this year's mix took on a theme of richly robust strings and the word "amen" popping up all over.
First, there is the amen at the end of Volcano Choir's "Alaskans" — a sampling of Charles Bukowski reading his poem The Shower, and struggling over the final lines, ending with "amen." Then a few songs later, Tyler Lyle wends his way to another kind of amen — a blessing of sorts, as he sings about youth and aging and wanting to live forever.
Of all the words I could have lifted out of a song to name this mix, that one word "amen" seems to fit the most. Fall always feels like a bit of a benediction to me; a closing thank you and fiery brilliant last gasp to what the summer was, a preparing for the thick silence and the warm wool blankets of winter.

(amen.) – The Fuel/Friends Autumn Mix 2013
While You're Carrying The Weight – Patrick Dethlefs
Patrick is one of Colorado's best gems, and this song is the title track off his new EP. There is a weighty, elegant compassion radiating through it, and it makes me somehow grateful – and breathless.
The Shining – Badly Drawn Boy
While the amens were accidental, when I started listening for this mix to coalesce, I wanted all of the songs with the strings, and that bluish-purple shine that could look like either gathering twilight or a healing bruise.
Alaskans – Volcano Choir
This album, all of it: flawless soundtrack of this season. I picked this track narrowly over "Byegone," but it was suuuuper close. Ultimately it was the heartbreaking Bukowski sample that did it for me, because: CHRIST.
Amsterdam – Gregory Alan Isakov
Perhaps it is because Colorado totally wins autumn-time, what with all our yellow aspens and such, but this mix this year is especially dense with Colorado songwriters. Greg is obviously one of our finest; everything he makes, for me, is redolent of this season. From his stunning new "rambler's folky manifesto" album, The Weatherman.
Barside – PHOX
All the time, still cannot get enough of Monica's honeyed voice. Their chapel session is in the pipeline, and I can't wait to have more music from them to listen to. This song feels like falling asleep sitting up.
Small Plane (NPR garden version) – Bill Callahan
There is a simple, stark straightforwardness in this song from Bill's new album Dream River, a view of relationships with others that I find real and appealing. "I always went wrong in the same place / where the river splits towards the sea," he confides, but then the lyrics delve into a mutual wresting of control from each other. All those different paths our lives could follow; "I really am a lucky man."
My Search Party – Covenhoven
Joel Van Horne of Colorado named his new musical project after his family cabin, Covenhoven, in rural Wyoming, and created an independent symphony of a record around the concept of that place for him. This song stopped me in everything I was doing when I first heard it. I still draw in my breath sharply and hold it for the whole first verse.
Salt Year – Chris Bathgate
I'm just choking on a salt year, when sugar's all I've longed for. I should live in salt for leaving you behind. Mixed metaphors, same ideas, terrific song.
Silent Passage – Bob Carpenter
This is a song from the early Seventies that I'd never heard until recently, and I think I hear Emmylou Harris on backing vocals? Golden sun, long roads, and a restless spirit, this song.
Young Men (demo) – Tyler Lyle
For my money, this young man is writing some of the very very best songs right now: wry and clever and believing and wide open, all at once. We just want to live forever, we are sorry we will never, amen.
Come On, Illinois – Houndmouth
A calescent, fast-rising band from Kentucky that makes me want to watch Last Waltz a few more times. I saw these guys in Boulder this summer and, man, for some fresh-faced kids, they can joyfully wail with the best of 'em.
Rules Of The Game (b-side) – Typhoon
I still want to wrestle out what the new Typhoon record means to me (hint: a lot), and how seeing them live recently was one of the most jaw-dropping shows I have seen in years. But for now — we will sit quietly and soak in the loveliness of this song which could totally be an a-side but is a b-side because Typhoon has more talent than they know what to do with. This song fits seamlessly in to White Lighter, even repeating melodies and certain turns of phrase.
The Drugs Don't Work – The Verve
This classic came on shuffle recently and those STRINGS. I have it on repeat so many days lately. I will always love the lyric, "and I hope you're thinking of me / as you lay down on your side." So …simple. A heartbreaker, this song.
The Orchids (Psychic TV cover) – Califone
I saw Califone the other night in a little coffee shop near the railroad tracks in Colorado Springs. I had never heard much of their music before, just knowing them by reputation mostly. I sat there with an awed half-smile on my face the whole time, hand touched to my lips, an unsettled and deeply-pleased feeling on me all at once, in the best possible way.
Mine – Spirits of the Red City
Spirits of the Red City has been haunting me pleasantly for a few months now. Originally a loose collective from Minneapolis, but now sort of related to Denver by blood (since Denver's Collectible Records just released their new record Jula), we welcome them.
Dying Now – Noah & Abby Gundersen
One of the finest, truest duos together, this brother and sister detonate the emotional heavy artillery, but make it so smooth that you almost don't notice until you look down and a chunk is missing.
To Place Me On A Stone – Will Johnson
Kinda in a Will Johnson phase these days, fittingly, obviously. Solo vocal evening worksong; closing hymn for the summer having its way with us.
Ghost, Again – Rayland Baxter
My friend Jon recommended I listen to this artist, and whoaa I am so glad I did. Close your eyes for this one, and just let it pierce through. "I nearly made it to the end of the road."
3 Rounds and a Sound (iTunes session) – Blind Pilot
I recently reminded myself how this is a perfect album, and this is an exquisite version of a perfect song. "I hope we dance tonight before we get it wrong / and the seasons will change us new, but you're the best I've known, and you know me."
Can I Sleep In Your Arms Tonight (Willie Nelson) – Phosphorescent
I've been laced-in with fast, tight stitches in a Phosphorescent cocoon lately.
This song is on here rather than the completely, abso-fucking-lutely ridiculous version of "Wolves" from St. Pancras Church that is coming out on the bonus live disc for Muchacho (Oct 29) for two reasons. One, all of us can agree that autumn is the best time to start up that snuggly sleeping-in-someone's-arms business, aside from the sticky summer heat. Two, I am so not able to write about Wolves right now. So many thoughts. Preorder that bonus disc and we will talk later.
In the meantime, snuggle with Matthew Houck and Willie under that quilt. It feels good.
ZIP: AMEN :: THE FUEL/FRIENDS AUTUMN MIX 2013

[cover art design, as usual, by the tremendous Ryan Hollingsworth, from my picture last weekend at Mueller State Park, aspen-gazing.]

21 comments
21 Comments
Sorry, the comment form is closed at this time.