February 8, 2012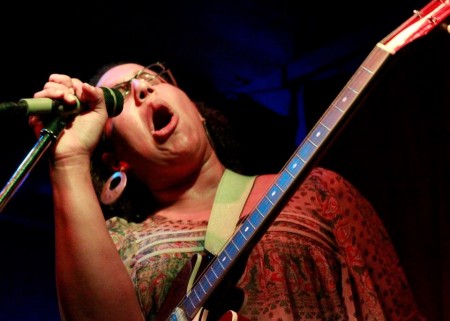 Perhaps you, like many other late night denizens, saw Alabama Shakes nearly burn down Conan's studios with their performance on last night's show, and sat there on your couch shaking your head and saying "what the hell was that?!" Maybe you've caught them live on this tour (LUCKY), or watched some of their immensely dynamic videos online. One thing is, I believe, for certain. Alabama Shakes are a force of nature akin to a hurricane or a tidal wave, and they are conquering something serious.
A few weeks ago they played The Independent in San Francisco, and one of my fabulous readers ("B") taped it and sent it to me in a simple padded envelope, as he often awesomely does. I was slack-jawed listening in the car on my next long drive up to Denver. Brittany Howard's tremendous, ferocious wail of a voice is one that has the volcanic potential make a dent on this thing we call musical history.
Enjoy this magnificent show, from a band that is rightfully poised to explode. Their debut album Boys & Girls is out April 10th.
ALABAMA SHAKES
THE INDEPENDENT – SAN FRANCISCO (JAN 26, 2012)
Goin' to the Party
Hold On
Hang Loose
I Found You
Always Alright
Boys & Girls
Be Mine
Rise to the Sun
Hurricane Strut
Mama
You Ain't Alone
Heavy Chevy *possibly my favorite
Heat Lightning
I Ain't the Same
On Your Way
How Many More Times (Led Zeppelin cover)
ZIP: ALABAMA SHAKES IN SF (1/26/12)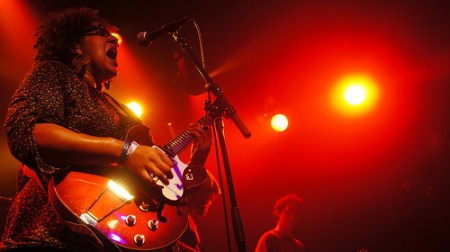 Also, pretty much all you need to know about why Brittany Howard is so rad can be heard when she introduces the band during "Hurricane Strut," with none of their real names, but nevertheless their perfect names:
"Let me introduce you…to the 100% legit…Alabama Shakes. Right over here on this ebony guitar, I got Cobra Snake Jackson. Let him know you love him. This gentleman right here… why this is Mahogany T Jones. What's up Mahogany. Right back here… you know I got Scooter Johnson. Awww Scooter… keep it on time, keep it on time. Right over here, aha… I got Styrofoam Jones. Let'em know what's up Styrofoam. Ya know…that's all there is to it."
Damn straight.

[top image by Joseph Lanford, second photo (from that SF show) by Pam Torno. Thanks to Adam Sharp for helping me with clerical work – you're hired.]

10 comments
10 Comments
Sorry, the comment form is closed at this time.