December 2, 2011
Bottom Of The River (Blogotheque version) – Adam Arcuragi
This is an older video, but so joyful, there in the middle of a flea market off 25th Street in NYC. The little Chinese lady clapping along looks pretty much how I feel when I listen to this.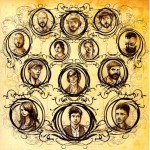 Adam Arcuragi comes to us by way of Philly (where he used to be a teacher), now makes his "death gospel" music in New York, and this is the closing song on his 2009 sophomore album, I Am Become Joy.
Joy indeed.


ADAM ARCURAGI TOUR DATES (i'm in for Denver)
Jan 18 – The Bootleg Bar, Los Angeles, CA
Jan 19 – Hotel Utah, San Francisco, CA
Jan 22 – Hi Fidelity Lounge, Bremerton, WA
Jan 23 – Sunset Tavern, Seattle, WA
Jan 24 – BellTower, Pullman, WA
Jan 25 – Flying M, Boise, ID
Jan 27 – Hi Dive, Denver, CO
Jan 30 – Empty Bottle, Chicago, IL
Jan 31 – Cafe Bourbon Street, Columbus, OH
Feb 01 – Garfield Artworks, Pittsburgh, PA
Feb 02 – Union Pool – RECORD RELEASE SHOW!! NYC
Feb 06 – Kung Fu Necktie, Philadelphia, PA

2 comments
2 Comments
Sorry, the comment form is closed at this time.