August 21, 2011


Day After Tomorrow (Tom Waits) – Grand Hallway
In the last few days, I've put this song on repeat and just steeped myself in it over and over. Tomo Nakayama of Grand Hallway has a haunting, spectral voice here (reminds me of Thom Yorke) as he covers one of Tom Waits' saddest sad songs. I very nearly lost someone I love last weekend, and have been reminded this week how incredibly tenuous this life is. You might go ferociously hug someone you love today, and tell them what they mean to you. Just a thought.

Tell me, how does God choose
whose prayers does he refuse
who turns the wheel, who throws the dice
on the day after tomorrow
And the summer, it too will fade
and with it brings the winter's frost, dear
and I know we too are made
of all the things that we have lost here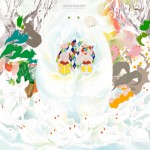 This video was recorded a year ago as part of their Sound on The Sound Session. The second song in this video ("I hear music from the next room…") is called "Roscoe (What A Gift)," and it is the closing track from the new Grand Hallway record. It's also one of my favorite songs on there.
Winter Creatures is out now, and it is sparkling, and GORGEOUS.

4 comments
4 Comments
Sorry, the comment form is closed at this time.