March 23, 2011
Welcome to the agony of what I call "The Post-SXSW, Just-Discovered-That-Band!" blues. This happens every year, where mere days after I get home I figure out the new loves that I missed like an oblivious ship passing in the night. If the ships were holding Shiner Bock.
I objected to Dale Earnhardt Jr. Jr. on principle of naming, really, which is stupid. I was all, hey now I don't like NASCAR. Now I see that it is their trick to guard their secret because holy heck this is terrific pop music, all fuzz and shimmer and coolness. I can't get enough of the daunting beat on this song, and I am totally singing along.
Stop being so stubborn.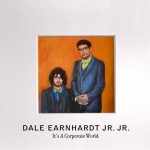 Morning Thought – Dale Earnhardt Jr Jr

Daniel Zott and Joshua Epstein are from Detroit and have a few catchy EPs to their name that you can enjoy now (check the tune "Simple Girl"), and their debut full-length It's A Corporate World will be out June 7 on Quite Scientific Records. They remind me a bit of what I loved about Chester French – remember?
The good news is also this: my agony is short lived, only until June 11 when they come back through Colorado:
DALE EARNHARDT JR JR TOUR TOUR
Mar 23 – The Bilken Club – St. Louis, MO
Mar 25 – Schuba's – Chicago, IL
May 11 – Mercury Lounge – New York, NY
May 12 – The Rock Shop – Brooklyn, NY
May 13 – The Red Palace – Washington, DC
May 14 – Kung Fu Necktie – Philadelphia, PA
May 17 – IOTA Club & Cafe – Arlington, VA
May 18 – The Camel – Richmond, VA
May 19 – Local 506 – Chapel Hill, NC
May 21 – The Basement – Nashville, TN
May 24 – Bottletree – Birmingham, AL
May 25 – Proud Larry's -Oxford, MI
May 26 – Fitzgerald's – Houston, TX
May 27 – Club DaDa – Dallas, TX
May 28 – Emo's Alternative Lounge – Austin, TX
May 31 – Santa Fe Brewing Company – Santa Fe, NM
Jun 01 – Rhythm Room – Phoenix, AZ
Jun 03 – The Echo – Echo Park, CA
Jun 04 – Rickshaw Stop – San Francisco, CA
Jun 06 – Mississippi Studios – Portland, OR
Jun 07 – The Tractor Tavern – Seattle, WA
Jun 09 – The Neurolux – Boise, ID
Jun 10 – Kilby Court Gallery – Salt Lake City, UT
Jun 11 – Hi-Dive – Denver, CO
Jun 15 – 7th Street Entry – Minneapolis, MN

[thanks Adam!]

5 comments
5 Comments
Sorry, the comment form is closed at this time.