February 25, 2011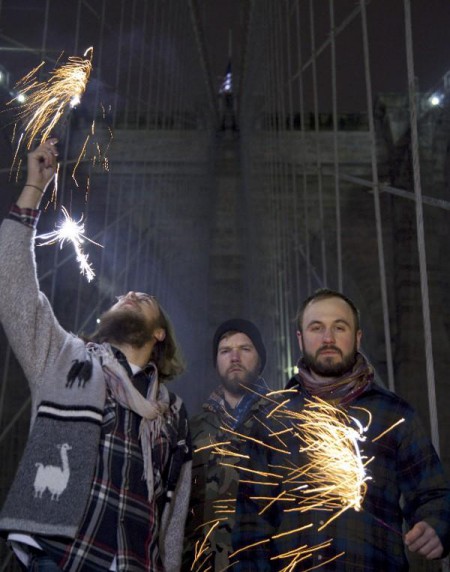 My flip-flopped friend out on the sandy beaches of Florida sent me a tune this week from Akron/Family's new album, and I put it on repeat for most of the day Wednesday. This is a big, expansive, primal celebration that has more in common with Sleigh Bells and Yeasayer than the communal freak-folk that I associate with some of their past music.
Silly Bears – Akron/Family
It's a bright aural assault from their newest album with a Flaming-Lips-worthy title, S/T II: The Cosmic Birth and Journey of Shinju TNT (out now on Dead Oceans). I find it addictively good. According to the album descriptions, "It was recorded in an abandoned train station in Detroit with the blackest white dude we all know, Chris Koltay (Liars, Women, Deerhunter, Holy Fuck, No Age)." How could it not be rad?
I don't know the music of Akron/Family very thoroughly, but they've got their bright spots in my musical library for sure. I do remember being immensely impressed with I saw them at Coachella in 2008 because they had not one but two drummers. That's enough to woo me. That new track reminds me of the crazy cacophony of "Ed Is A Portal" from their 2007 album Love Is Simple, of which I wrote one time "I'm pretty sure there are some passing Hare Krishnas involved here."
Ed Is A Portal – Akron/Family
But sometimes they also put aside the riotous tambourine joy in favor of deeply lovely songs, like the straight-up Strawberry Fields of "Don't Be Afraid, You're Already Dead" (love is simple). And Akron/Family also started my 2010 with a gorgeous simple hymn that was my theme for last year in a fantastic way. This year is gonna be ours, indeed.

3 comments
3 Comments
Sorry, the comment form is closed at this time.