February 8, 2011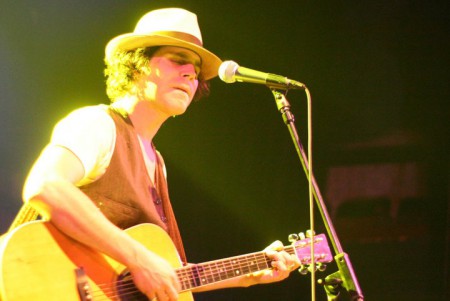 Two weeks ago I had the pleasure of seeing Langhorne Slim rock the gorgeous Boulder Theatre, just around the corner from where we did that excellent photo shoot and long, chatty interview in '09.
I've raved before how marvelously anachronistic his rootsy music is, and how much I enjoy his raw, ragged, intelligent songwriting. He's now touring with a band billing themselves as "Langhorne Slim and The Law" (with this rad hoodie I wanted). They shredded the banjo, the standup bass, and the drums, Avett Brothers-style. In fact, Langhorne is now working with Dolph Ramseur (who started the Avetts career) in a pairing that was a long time coming, but according to Slim, just feels right.
Someday I would really really like to see Langhorne backed by a full gospel choir. Can we make that happen, please? Langhorne also told me that they're working on a new album for 2011 and I, for one, can't wait.
He closed his set with this Leonard Cohen cover:
you kept right on loving, I went on a fast,
now I am too thin and your love is too vast…
…and she's moving her body so brave and so free.
If I've got to remember that's a fine memory.
Tonight Will Be Fine – Leonard Cohen

(all photos from the night here)


LANGHORNE SLIM TOUR DATES
# with the Avett Brothers
March 21 @ Visulite Theatre – Charlotte, NC
March 22 – The Pour House – Charleston, SC
March 23 – Jack Rabbits – Jacksonville, FL
March 25 – Ruth Eckerd Hall – Clearwater, FL #
March 26 – McRaney's Tavern – Winter Park, FL
March 27 – Bell Auditorium/Augusta Ent. Ctr – Augusta, GA #
March 28 – The Bottle Tree – Birmingham, AL – headlining
March 29 – Classic Center – Athens, GA #
March 30 – Mercy Lounge – Nashville, TN
March 31 – Proud Larry's – Oxford, MS
April 14 – Verizon Wireless Theatre – Houston, TX #
April 15 – Old Settler's Festival – Austin, TX
April 16 – Palladium Ballroom – Dallas, TX #
June 4 – Wakarusa – Ozark, AR

2 comments
2 Comments »
Leave a comment