January 18, 2011
Some people are happiest when music can inspire them with new songwriting technique or melodies, but me — I often find myself most thoroughly contented when a song drives me to the dictionary. I love to roll around new words; choice vocabulary thrills me like some people love a really good meal.
Therefore it's pretty clear that Colin Meloy and I were MFEO.

panoply (ˈpænəplɪ) — n , a complete or magnificent array
"June Hymn" is one of the most achingly wistful songs on the fantastic new Decemberists album, The King Is Dead, out today. It blossoms and blooms just like the scene it invokes. Oh –
Here's a hymn to welcome in the day
heralding a summer's early sway
and all the bulbs all coming in
to begin
The thrushes bleating battle with the wrens
disrupts my reverie again
pegging clothing on the line
training jasmine how to vine
up the arbor to your door, and more
Standing on the landing with the war
you shouldered all the night before
Once upon it, the yellow bonnets
garland all the lawn
you were waking, day was breaking
a panoply of song.
The summer comes to Springville Hill…
This song (and its companion piece, the elegiac "January Hymn") is a poem, of the best kind. Stream the album version here (only through today, I think), "June Hymn" is third from last and starts around 26:20.
It is so, so much sweeter with Gillian Welch's voice in the mix – her vocals (throughout this album) balance perfectly with Colin's precise and incisive delivery. Theirs is one of those pairings that I never would have pictured, but then I hear it and wonder why it's not always like this.

I sat up late into last night at my kitchen table playing Colorku with a friend (the most addicting game ever), listening to the new Decemberists album multiple times, singing along to the building ah-oooohs in "Calamity Song" and reveling that strong gust of "Down By The Water." From the first song, the first time I heard this album a few weeks ago, I knew it would be my first favorite album of 2011. Repeated listens have only confirmed that this is a completely terrific album.
The King Is Dead is a big, bursting album that drives along propelled by Peter Buck (R.E.M.) on jangly guitar and the flawless combination of Colin Meloy and Gillian Welch's voices twining together throughout. But there are also moments like this (and the closing track, "Oh Avery" – man alive) of quiet, introspective beauty. It blends a rootsy sensibility with the Decemberists' smart and lovely songwriting, so you have the wheezing of harmonica, a little banjo and the pierce of the fiddle but also the acoustic fingerpicking on guitar and thoughtful melodies.
The deluxe version of the album comes with a book of photographs taken by the wonderful Autumn de Wilde, a photographer I admire so much that she's one of just three that has their own tag on my blog. Look at her lovely Polaroids here; get one original tucked in the deluxe version, if you go that route.
Colin explains:
"One night on Pendarvis Farm, whilst merrily roasting tofu dogs over an open campfire, we Decemberists, along with our esteemed Management Representatives and a certain Missus Autumn de Wilde, photographer superieur, hatched a plan wherein Mizz de Wilde would document the making of The King is Dead on Polaroid film, a full 2500 photos to be exact, and we would then include one of those unique photographs individually in each of the DELUXE BOX EDITION of the record.
Naturally, this is the sort of cockamamy scheme that lodges itself in the minds of perfectly sane adults while under the influence of a bucolic, Arcadian Oregon summer; the expense was deemed too great. This is where The Impossible Project came in; they are a group devoted to the survival of Polaroid films of all sorts and collect or manufacture this ever-rarified breed of film in order to sell or donate it to photographers worldwide. They liked our idea; they donated us the film. And so here we are, this dream fulfilled. Ms. de Wilde followed us Decemberists around all summer, snapping Polaroids; we posed obligingly. And one of those photos could be yours."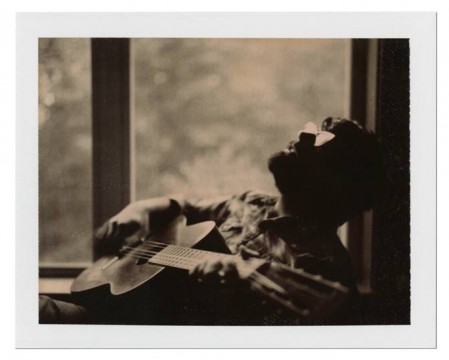 And if you are lucky enough to live in Portland from whence The Decemberists hail, you should go see them tonight at 7pm at Music Millenium, where they'll be signing copies of their new album. Get one for me and I'll totally pay you back.
I think you'll love this album as much as I do, and I am head over heels. Go get it.

DECEMBERISTS TOUR DATES
* with Wye Oak
# with Mountain Man
January 24, Beacon Theatre, New York, NY*
January 25, Beacon Theatre, New York, NY* SOLD OUT
January 26, Beacon Theatre, New York, NY* SOLD OUT
January 28, House of Blues, Boston, MA*
January 29, House of Blues, Boston, MA* SOLD OUT
January 31, Olympia De Montreal, Montreal, Canada*
February 1, Sound Academy, Toronto, Canada*
February 2, Royal Oak Music Theatre, Royal Oak, MI*
Feburary 4, Riviera Theatre, Chicago, IL* SOLD OUT
February 5, Riverside Theatre, Milwaukee, WI#
February 6, State Theatre, Minneapolis, MN#
February 7, Uptown Theatre, Kansas City, MO#
February 9, Boulder Theater, Boulder, CO#
February 10, Ogden Theatre, Denver, CO#
February 12, The Wiltern, Los Angeles, CA# SOLD OUT
February 13, House of Blues-San Diego, San Diego, CA#
February 14, Fox Theater, Oakland, CA# SOLD OUT
February 18, Paramount Ballroom, Seattle, WA#
February 19, Arlene Schnitzer Hall, Portland, OR# SOLD OUT
March 4, Vicar Street, Dublin, Ireland
March 5, Barrowlands, Glasgow, UK
March 7, Birmingham Institute, Birmingham, UK
March 8, Bristol Academy, Bristol, UK
March 10, Manchester Academy, Manchester, UK
March 11, Leeds Academy, Leeds, UK
March 12, De la Warr Pavilion, Bexhill, UK
March 13, Trix, Antwerp, Belgium
March 14, Paradiso, Amsterdam, Netherlands
March 16, Hammersmith Apollo, London, UK

I also thought immediately when I heard this album, "Man, this would sound great at the Telluride Bluegrass Festival." Here's to hoping.

12 comments
12 Comments
Sorry, the comment form is closed at this time.