October 18, 2010
I have so many of these favorite National songs that it's hard to recount all the ones that have laid me out over the years. I mean that literally; I often lay flat on the floor when I am listening to them, and just let them wash over me. I woke up with a tightly-wound knot in my belly this morning about seeing The National in concert tonight, for my first time in a non-daytime festival setting.
This is one song that I hardly think they'll play tonight, since it is off their self-titled 2001 debut album, but it still grabs at my insides something fierce.
American Mary – The National
He's missed her love because he never realized how much he had it. It's an advance summary of so many songs in The National catalog, a wasteland of missed opportunities, cracked hope, nights when the stars never aligned. She looks at him with her silver eyes, as someone she doesn't recognize.
I've sometimes wondered why they named their website after this song title. It could have just been that they liked the sound of the words, but that part of me that always wants to make sense of everything thinks that there might be some summation in this song of what the National is about.

I've also spent more time than I should have wondering about the line "don't be a nightingale for anyone's space to fill." It might just be words strung together, but I want to believe there is something more behind that imagery. The nightingale has been linked to the idea of an artistic muse, and Shelley wrote: "A poet is a nightingale who sits in darkness and sings to cheer its own solitude with sweet sounds; his auditors are as men entranced by the melody of an unseen musician, who feel that they are moved and softened, yet know not whence or why."
For what that's worth.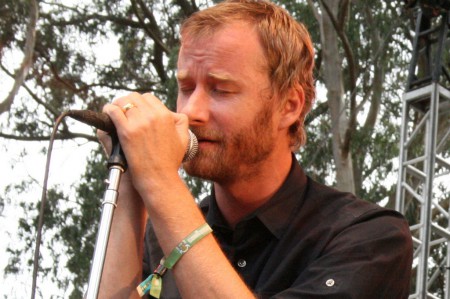 AMERICAN MARY
give my jewels to the army, my silverware and jeans
give my love to your family; tell them anything.
give yourself to anyone; give yourself away
don't be a nightingale for anyone's space to fill.
if i could, i'd be your star again
fall across your falling sky…
it takes a lot of little rain to make you feel like nothing.
anything, anything you can do, do to me for everything i did for you
nothing.
i didn't try to take your love away
i just never knew i had it…
there is nothing you can say to ever make me want you
american
there is nothing you can say to ever make me leave you
american.
american mary…


[my photo from Outside Lands 2009]

6 comments
6 Comments
Sorry, the comment form is closed at this time.