August 27, 2010
Five years since his last traditional release, Sufjan Stevens came out of the blue last Friday (only hours after my birthday waned, so I think it was probably a gift to me) with a new EP, All Delighted People, available on Bandcamp for only five bucks. Then a few days later, he announced his new full-length Age of Adz would be coming on October 12th from his Asthmatic Kitty label.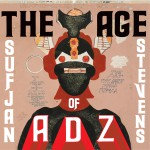 A few live recordings of new songs from this album have been circulating since the Castaways shows last year in New York: the second, third, and last songs on the forthcoming release, respectively.
Too Much
Age of Adz
Impossible Soul

Falling into a pleasant rut, I've been alternating with the new EP, the live recordings from the Age of Adz songs, and this fantastic KEXP Seattle show from 2005. This is one of my favorite live sets of his that I have. The sound quality is pristine, the delicacy of the songs breathtaking (as always). I wonder if "Casimir Pulaski Day" will ever stop breaking my heart in its existential futility ("…but nothing ever happens"), or if I want it to.
SUFJAN STEVENS @ THE TRIPLE DOOR
KEXP SEATTLE SHOW, 7/23/05
Casimir Pulaski Day
The Tallest Man, The Broadest Shoulders
Prairie Fire That Wanders About
Jacksonville
The Predatory Wasp of Palisades Is Out To Get Us!
Chicago
The Man of Metropolis Steals Our Hearts
John Wayne Gacy, Jr.
ZIP: SUFJAN STEVENS, KEXP 2005

Don't forget he'll be touring "large, elegant" venues this Fall; the Denver stop is on my wishlist.
SUFJAN STEVENS FALL TOUR
Oct 12 – Metropolis Theater, Montreal, QC
Oct 13 – Massey Hall, Toronto, ON
Oct 14 – Royal Oak Music Theater (SOLD OUT), Royal Oak, MI
Oct 15 – Chicago Theater (SOLD OUT), Chicago, IL
Oct 16 – Orpheum Theater, Minneapolis, MN
Oct 17 – Uptown Theater, Kansas City, MO
Oct 19 – The Long Center for the Performing Arts, Austin, TX
Oct 20 – McFarlin Memorial Auditorium, Dallas, TX
Oct 22 – Mesa Arts Center-Ikeda Theater, Mesa, AZ
Oct 23 – The Wiltern (SOLD OUT), Los Angeles, CA
Oct 24 – The Wiltern (SOLD OUT), Los Angeles, CA
Oct 25 – The Paramount Theater, Oakland, CA
Oct 26 – The Paramount Theater (SOLD OUT), Oakland, CA
Oct 28 – Orpheum Theater (SOLD OUT), Vancouver, BC
Oct 29 – Arlene Schnitzer Concert Hall, Portland, OR
Oct 30 – The Paramount Theatre, Seattle, WA
Nov 1 – Kingsbury Hall, Salt Lake City, UT
Nov 2 – Paramount Theatre, Denver, CO
Nov 4 – Hilbert Circle Theatre, Indianapolis, IN
Nov 5 – Bijou Theater (SOLD OUT), Knoxville, TN
Nov 6 – The Tabernacle (SOLD OUT), Atlanta, GA
Nov 7 – Thomas Wolfe Auditorium, Asheville, NC
Nov 9 – The National, Richmond, VA
Nov 10 – Kimmel Center, Philadelphia, PA
Nov 11 – Orpheum Theatre (SOLD OUT), Boston, MA
Nov 12 – Orpheum Theatre, Boston, MA
Nov 14 – Beacon Theatre (SOLD OUT), New York, NY
Nov 15 – Beacon Theatre (SOLD OUT), New York, NY
[photo credit Marzuki Stevens]

8 comments
8 Comments »
Leave a comment