August 6, 2010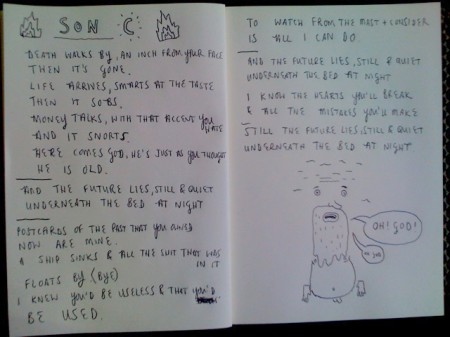 Selkirk, Scotland's resident gutwrenchers Frightened Rabbit sent a new song out to their mailing list today, complete with an image of the lyrics and a strangely disembodied drawing (which would fit well with Tuesday's post).
Frontman Scott Hutchison attempts to explain "a bit about the song":

As is often the case, death rears its head. Most days, I think briefly about the way in which I may die, and what will be left behind aside from a collection of fat, muscle, bones and apparently a fair bit of carbon and water. Death is really what defines life – without it the whole endeavour would feel a bit mundane and pointless. Procrastination would be extended to years, even decades – what would be the point of doing anything if you knew you would live forever? So death is what keeps me going, even more so than effervescent tablets…
Son C – Frightened Rabbit

Frightened Rabbit is playing Lollapalooza this weekend (where I have a staff of talented writers reviewing the show for us), and they have a host of shows coming our way, including a lengthy fall tour through the States. Frightened Rabbit puts on an incredible, cathartic show and you should go.

2 comments
2 Comments
Sorry, the comment form is closed at this time.