June 30, 2010
I've been enjoying the lazy warmth of summer these weeks, filling my off-hours with outdoor adventures (and, okay, an inordinate amount of soccer viewing in pubs). Partly because I've been working feverishly on my summer mix for 2010, but all I seem to want to listen to these days is airy, lilting, easygoing music to soundtrack the gorgeousness outside.
During the winter, I'm all about good-to-be-sad albums like Love Is Hell or Midnight Organ Fight, but dang it feels good to open up the windows and air out the other half of my musical collection. When I lived in California, it was almost always nice outside and I do believe I appreciated it less. Now I look out the window and remember when everything was covered in ice and snow, and I listen to songs like this new one from Philadelphia trio Good Old War. Last summer they kept me happy for months with their song "Coney Island," and here they do it again with a visit to the Sargent House's Glassroom Sessions.
It's effervescent, and summery, and lovely.
My Own Sinking Ship – Good Old War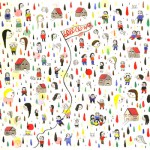 Good Old War's self-titled sophomore album just came out at the beginning of June on Sargent House Records. Stream the whole thing. The band is on tour all this summer (with Brandi Carlile, the Xavier Rudd, then someone else cool) and I hear from someone who just saw their show that "it felt like a campfire," with everyone singing along to all the words.

3 comments
3 Comments
Sorry, the comment form is closed at this time.