June 7, 2010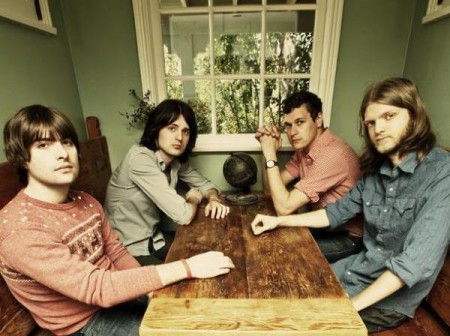 Back home after ten thousand hours of driving with malfunctioning air conditioning in my car, I am still working on getting all my pep and perk back. But during the long hours of work today, this mix definitely helped.
Rooney sits snugly in a triumvirate in my mind along with Redwalls & Phantom Planet – that vibe of retro-influenced, chunky, fun pop that you can dance to. The drummer from Rooney compiled a nice little playlist in this same vein of music for you and me because he loves us, and because their band has a new album out tomorrow.
audio player

Read what Ned says about his selections here.
Love Me Chase Me – Carney
Memories – The Redwalls
Fair Game – The Like
Appaloosa – Hymns
The Strawberry Blonde – Mike Viola
When My Time Comes – Dawes
Runaway – Samantha Shelton
I Won't Fuck You Over (This Time) – Bleu
Unresponsive Ears – Army Navy
Angel of Mine – Cory Chisel & The Wandering Sons

This is a fun June mix. I was impressed with folks like Dawes (who I know I should really be listening to, maybe whilst driving through Laurel Canyon with flowers in my hair and a sundress) and old Fuel/Friends favorite Hymns, who have gone all marvelously retro R&B brass brigade here. I was also enticed to listen to more of Army Navy and Bleu (the latter was recommended to me by none other than my seatmate Creed Bratton on the flight home from Austin).
Oh — and Mike Viola is still a genius.
Rooney's newest album EUREKA is out tomorrow, and they are streaming the whole thing on their MySpace.

2 comments
2 Comments
Sorry, the comment form is closed at this time.