May 20, 2010
I don't know much about the principles of electricity, but I do know that there is something ephemeral and hard to contain about the blue-white volts. As I watched Kristian Matsson, aka The Tallest Man on Earth, last night at the Bluebird Theatre, I thought of lightning and static, and how I could almost hear the electricity humming in the air around his tightly wound, wiry, small frame.
Matsson writes some of the most intricately plucked, passionately thought-out songs in my ears these days. His voice is insistent and pressing, enunciated and piercing. You can't detect any accent from his native Sweden; in fact his rough voice actually does sound akin to the troubadour he's often compared with (Dylan — not hard to see why). Watching him captivate the crowd, I wondered how anyone could think all folk music on an acoustic guitar was sleepy and rosy. Matsson powerfully channels the urgency of the best folk music of a generation past, comfortable in the soundtrack of today.
For as jovial and talkative as Mattson was, during the songs he was unable to stand still. Each one seemed to be working its way out through his very skin, as he rocked back and forth and locked eyes with folks in the crowd, sitting down for a second only to stand right back up again. It was a kinetic experience. Josh Ritter has a similar undiluted enthusiasm for the crafting of his songs in a live setting, but where Ritter seems to joyfully birth each lyric with a palpable joy, Kristian's songs feel hard-fought and sharp edged. There is an urgency behind each story he needs to get out. He roils and paces, struggling to let the muse and the melody pass through him authentically to the audience. Standing sometimes like a bird, his skinny legs would tuck and fold one on the other, perching.
The songs were nothing short of gorgeous, even as their words ran me through. Matsson is a master guitar player, inflecting subtle musical variations into the finger-picking patterns of the songs. The bluesy notes seemed to often hang golden and round in the air, practically visible in their radiance. There was a camaraderie there down in front by the stage, like we all knew a secret (while many at the back bar of the sold-out club talked loudly over him, the opener). He played several requests and acknowledged the requesters, hugged two fans pressed up against the stage, and leaned in amongst us every chance he got – dripping sweat.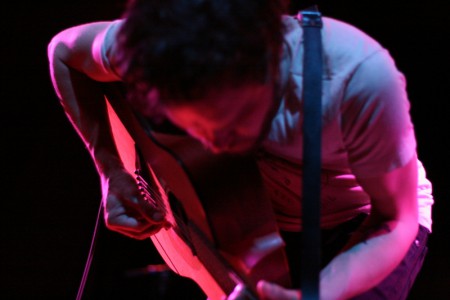 His music flows beautifully organic, rife with imagery of levees of stars, rivers and snow, and sparrows and bluebirds. But – there's a dark and sometimes sinister undercurrent to the way Kristian sees the natural world. He's not writing about the jasmine because it smells good, he's writing about how it thrives based on the body buried beneath it. The secrets that we keep. The jealousies we foster.
It hit me as I watched him play just how damn much I have fallen in love with his music. As each song started (The Gardener, Where Do My Bluebird Fly, Love Is All, Pistol Dreams, Drying Of The Lawns, an exquisite King of Spain…) I kept feeling frissons of joy inside, thinking, "ooh! I love this song!" After the seventh time, I realized what I meant to say to myself is that I really just deeply love him , and appreciate his music. When I met him after the show, he gave me one of the tightest hugs I've yet gotten, and I swallowed hard and thanked him for making my life richer and my heart fuller. I know – cheeseball. But I've never claimed to be otherwise, and his music does do that for me, every time.

Now you must listen. He closed his set with a fairly unknown new song, a bonus track from his new album The Wild Hunt (one of the best albums of 2010 so far, out now on Dead Oceans). And yes — holy heck, it stripped me bare and held me fixed.
Like The Wheel (bonus track) – The Tallest Man on Earth
…In the forest someone is whispering to a tree now
this is all I am so please don't follow me
And it's your brother in the shaft that I'm a-swinging
please let the kindness of forgetting set me free
And he said oh my Lord…
why am I not strong?
like the wheel that keeps travelers traveling on
like the wheel that will take you home
And on this Sunday someone's sitting down to wonder,
'Where the hell among these mountains will I be?'
There's a cloud behind the cloud to which I'm yelling
I could hear you sneak around so easily
And I said oh my Lord…
why am I not strong?
like the branch that keeps hangman hanging on
like the branch that will take me home …

I am loving the album version above, but last night's closing rendition was acoustic and simple with a guitar instead of the piano, and it possesses a separate kind of beauty:
Like The Wheel (live in Portland 5/11/10) – The Tallest Man On Earth

Other highlights? How about him bringing out his marvelous, wrenching cover of Paul Simon's Graceland? (which I just learned Simon once said was the best song he'd ever written).
Graceland (Paul Simon) – The Tallest Man On Earth
(as if I didn't know that…)

…and I still think –especially after seeing him do this one live last night– that the lyrics here remain my favorites of any of his songs:
I Won't Be Found (Daytrotter version) – The Tallest Man On Earth

The Tallest Man on Earth has something to say. I think we should be listening.
[all pictures over on the Facebook Fuel/Friends page]

22 comments
22 Comments »
Leave a comment