April 25, 2010
I have heard buzz about Australia's The Temper Trap from my friends who caught them at Coachella and SXSW, but an email from a good friend tonight about how he couldn't stop listening to their music finally put me over the edge — and now I am also stuck in their songs, happily.
This track skitters and twists over a persistently effervescent beat. The chorus ("and I want it, I want it, I want it…all") reminds me terrifically of something else I love, but suffice it to say that this is a fantastic slow-building song – here the honesty of Bon Iver's falsetto meets the shimmering, dancing guitar chords of Joshua Tree-era U2? Maybe.
Fools – The Temper Trap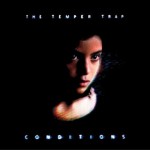 Their album Conditions is out now in the U.S. on Glassnote Records (Mumford & Sons, Two Door Cinema Club), and if you want to see them live, holy crap you have many many options because it looks like they are everywhere this summer, and selling venues out left and right.



EDIT: This (!!) may be the song that "Fools" has been trying to summon up all day from the depths of my memory, also a freaking fantastic song. Something in the haunting vocals?
Never Ends – Vijay Kishore

7 comments
7 Comments
Sorry, the comment form is closed at this time.