April 21, 2010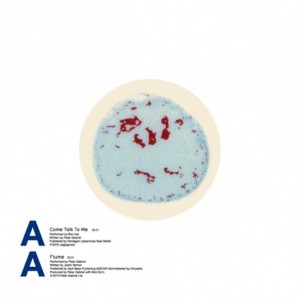 Easily:
Come Talk To Me (Peter Gabriel) – Bon Iver
In the swirling curling storm of desire
unuttered words hold fast
with reptile tongue the lightning lashes
towers built to last
Darkness creeps in like a thief
and offers no relief
why are you shaking like a leaf?
come on, come talk to me
I got the split 7″ of Peter Gabriel and Bon Iver covering each other, and it's been repeatedly blowing my mind ever since. For something so small with only 2 songs on it, it is astounding the amount of enjoyment I am getting from this pressing. Where Peter Gabriel's original is sweeping and epic like a rippling African grassland and a thousand drums, Bon Iver's version builds slow and haunting, and the plucking banjo sounds for all the world to me like rain on a roof. As the rain howls outside tonight and patters against my skylight, I'm reminded how that has always been one of my favorite sounds.
(n.b.: this song shouldn't be confused with this, which is now stuck in my head)

I also picked up an armful of other vinyl treats that made me all giddy:
a John Lennon Singles Bag (limited edition, 1765 of 7000) pack of three 45s with original artwork (Mother b/w Yoko Ono – Why, Imagine b/w It's So Hard, and Watching The Wheels b/w Yoko Ono – Yes, I'm Your Angel), a 24×36 poster, 3 postcards and a custom plastic adaptor hub. Yeah. Rad.
Fanfarlo Record Store Day exclusive 7″, You Are One b/w What Makes You Think You Are The One
Whiskeytown 7″ San Antone b/w The Great Divide

That and the Bon Iver/Peter Gabriel split, and I'm $45 lighter and 145% happier. Oh, and free Great Divide beer too? The mood in the store was jovial and festive; a music-lover's Christmas, Halloween, birthday and Hanukkah all in one. Saturday was one of the best days of my year – and I'm not the only one who thought so. Record Store Day 2010 underscored an increasing and surprising revitalization of the independent record store and the niche it plays in our lives. Paul, the owner of Denver's famed Twist & Shout Records on Colfax wrote the following musings about Record Store Day. They make me very, very happy.
"I stayed on the floor the entire day and I did not hear one cross word. I didn't hear one complaint or demand. As the customers clustered around the bins I would hear people call out 'Here's the Black Keys 12" – who needs it?' They were actually helping each other. I saw at least 20 ex-employees. Nothing makes me happier than that. I was also gratified by the number of customers just wishing the store well in a general sense; long time customers, first-timers, a surprising number of out-of-staters who traveled for the event, people of all types just happy to be there and happy to see a real record store still in existence.

What can I say? It was the biggest day we've have ever had. Last year in the depths of despair I remember saying to Jill, 'We will never say those words – 'best day ever' ever again.' I believed the business was on the big downhill slide that would never be reversed. I'm not sure it will be reversed, but we can still do some honkin' big numbers when the conditions are right. As I mentioned before, it was that same old demographic that always bought records still showing up. This is the generation that was supposed to be lost for good. And yet, there they were buying with gusto. Not just the RSD stuff – they were staying and shopping for everything. We sold so much new and used vinyl it was shocking. I don't know what the future holds, but I for one, am going to wait for the fat lady to sing before I say 'never' ever again."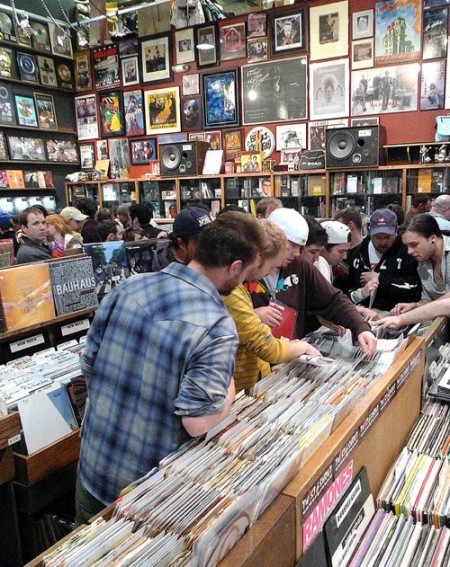 9 comments
9 Comments »
Leave a comment