April 16, 2010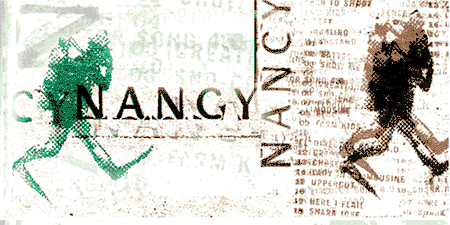 After reading the fantastic interview with The National over on The Quietus website, where Berninger said he wanted the new record to sound "like loose wool and hot tar," I've been even more excited (if that's possible) for May 11th when High Violet is released.
But back when frontman Matt Berninger and bassist/guitarist Scott Devendorf were students at the University of Cincinnati, they had a band called Nancy (named after Matt's mom). Together with bandmates Mike Brewer, Casey Reas, and Jeff Salem, they played in Nancy until graduation, when Matt and Scott moved to New York to pursue graphic design.
I've been intently listening all morning to what they sounded like. Of all the tracks, "Export" sounds very much like it could be a National demo to me (especially in those lyrics), and also the moody instrumental "Track 10″ shows nuances of depths to come. The other songs vibrate with that mid-90s loud punk enthusiasm that speaks to their love of Pavement, where the only connection I hear to what some members would evolve into is through devastating lines like: "I still talk about you when no one is asking, I still put shirts while my chest is collapsing."
NANCY: from their 1996 album on Wife Records
Breathing Test
Snocone Babbling
Export
Track 10
Uppercut
ZIP: NANCY (PRE-NATIONAL)

[songs via former Nancy member Casey Reas' site, and thanks to my friend Rand for pointing me in the right direction]

6 comments
6 Comments
Sorry, the comment form is closed at this time.