April 8, 2010
There's a raggedy-haggard old country vibe to Deer Tick's John McCauley's rasp, and on this song it could damn near make Tom Waits cry. But lest you think they only have an introspective sad-bastard wave to drown under, you must also see the youthful punk vibrancy that they bring to their live show, in order to understand them.
Deer Tick hails from the corner of the country up in Providence, RI, and this song is the first listen we have from their forthcoming Black Dirt Sessions LP (due June 8 on Partisan Records).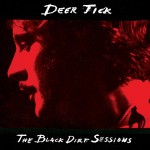 Twenty Miles – Deer Tick

It's rough and sad, but melodic and beautifully moody. The Black Dirt Sessions (named for the upstate NY studio where it was recorded) seems more introspective and raw than the jangle and clamor of last year's Born on Flag Day.

They stole my heart when we all sang wholeheartedly with them on a Beatles cover at Monolith last September. Yup. Check them out at Coachella or Lollapalooza, or one of their 32 other upcoming tour dates — for a good time and a soundtrack for your whiskey. A documentary about the band, City of Sin, was also completed last year and should be out in 2010.

[photo from my Monolith Festival 2009 set]

6 comments
6 Comments »
Leave a comment