March 30, 2010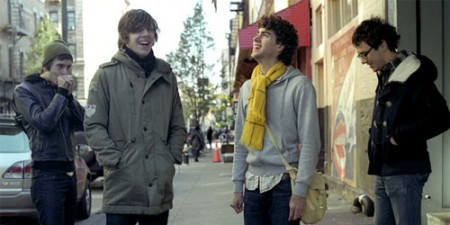 Tokyo Police Club are not as authoritative and Asian as they sound, in fact they are pale indie rock boys from Ontario with tambourines and synthesizers. Their music blends blend pleasingly nasally vocals (think of your favorite Decemberists, or Neutral Milk Hotel) with big juicy percussion and flourishes of robot electronica.
Their new sophomore album Champ is out on mom+pop records on June 8th. This intro sounds like The XX, then it gets all happy let's-go-ride-bikes:
STREAM: Breakneck Speed – Tokyo Police Club
Audio clip: Adobe Flash Player (version 9 or above) is required to play this audio clip. Download the latest version here. You also need to have JavaScript enabled in your browser.
Download it for free on their website. I'm already thinking of putting this song on my summer mix (I have the first and last tracks picked so far, even though I don't put it up until June. There was one other song I heard recently and thought to myself, "Wow, that would be a perfect track 2 on the Fuel/Friends Summer 2010 mix," but I forgot to write it down. Le sigh).
Tokyo Police Club is fun live, and plays April 17 at Coachella, June 11 at Bonnaroo, and a June run supporting Passion Pit. Tour dates here.

4 comments
4 Comments
Sorry, the comment form is closed at this time.