March 17, 2010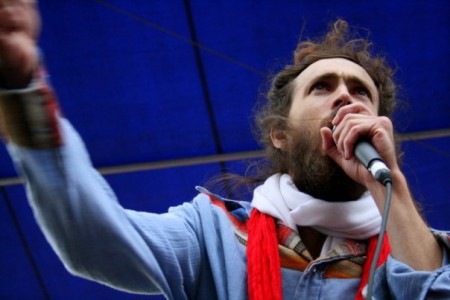 I woke up at 4:15 this morning, quarter of an hour before my phone started vibrating and chirping to remind me to get up for my early flight to Austin. I am saturated with the thrill of these coming days of marvelous musical maelstrom. I also cannot get this song out of my head, namely this RAC mix I can't stop listening to. It's relayered and cleaned up so shiny and pretty. Makes me love this song even more.
Home (RAC mix) – Edward Sharpe & The Magnetic Zeroes

Edward Sharpe & The Magnetic Zeroes create one of the most enthusiastically (and awesomely spacey, and jubilant) live sets you will see. I find it amusing that lead dude is not named Edward Sharpe.
The band is off in Australia these days, not Austin, so I won't be seeing them in the next few days, but I'll bet there's someone nearly as impressive live, just waiting for me to find them in the coming days. Recommendations?
Let's go.
[my photo above from Monolith 2009, in a wildly fantastic show]

13 comments
13 Comments
Sorry, the comment form is closed at this time.