March 9, 2010
Denver musician Nathaniel Rateliff (formerly of the well-loved Born In The Flood) and his band The Wheel have completed their debut record In Memory of Loss on Rounder, under the production hand of Brian Deck (Modest Mouse, Josh Ritter). It's exciting for me to see these friends getting some of the attention that I've long thought they deserved. I've seen 'em play in little clubs and on patios and at our hectic festivals, and Nathaniel's voice always commands people stop, and listen, and feel what he is singing.
Hear the full new version of "Early Spring Till" over on the Vanity Fair profile, and download it for free on Nathaniel's website. Vanity Fair? Holy crap, go go Denver music!
The Vanity Fair piece says, "his tenor voice and gospel-inspired harmonies are fit only for a silent cathedral." My own version of this cathedral they envision would be when I saw The Wheel on the Meadowlark patio late last summer, and underneath the canopy of twinkling lights in the late August evening they levied a heavy, reverent silence over the normally talkative hipster crowd. Everyone –everyone– was listening then, and now, you'll soon have a chance too.
These songs are now so much more fleshed out and filled in, but still leave a space for Nathaniel's distinctive voice to reverberate. "Early Spring Till" is much changed, but still with that soaring chorus that always makes my day feel a little more bearable. Are you tired? Do you feel wrung out? Have you fallen from where glory sprouts? At least Nathaniel understands.
This remains one of their most commanding songs, among many strong contenders:
Early Spring Till (demo version) – Nathaniel Rateliff & The Wheel
In Memory of Loss is out April 27th on Rounder Records.

Nathaniel is playing several SXSW shows next week (next week!!), including our Mile-Hi Fidelity Party party this year. Nathaniel Rateliff & The Wheel are playing along with Houses, Snake Rattle Rattle Snake, Pirate Signal, TAUNTAUN — all some of my favorite Denver bands. You should absolutely come.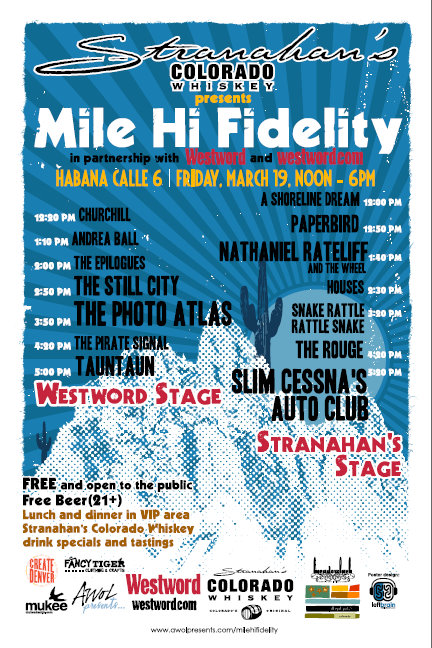 THE WHEEL IS EVERYWHERE THIS SPRING
*with the Low Anthem
# with Megafaun
% with Ra Ra Riot & Delta Spirit
@ with The Tallest Man on Earth
Mar 17 – Lamberts – C3 Party @ SXSW, Austin, TX
Mar 17 – Ale House – official SXSW showcase 9pm, Austin, TX
Mar 18 – Hotel San Jose – High Road Party @ SXSW, Austin, TX
Mar 19 – Habana Calle 6 – Mile Hi-Fidelity @ SXSW, Austin, TX
Apr 2 – The State Room, Salt Lake City, UT *
Apr 3 – Fox Theatre, Boulder, CO *
Apr 4 – The Slowdown, Omaha, NE *
Apr 5 – Huckleberry's Pizza, Rock Island, IL *
Apr 6 – Lincoln Hall, Chicago, IL *
Apr 7 – The Ark, Ann Arbor, MI *
Apr 9 – Vaudville Mews, Des Moines, IA
Apr 10 – The Waiting Room, Omaha, NE #
Apr 27 – Barnstormer III, West Liberty, IA %
Apr 28 – Barnstormer III, Milwaukee, WI %
Apr 29 – Barnstormer III, Lake Geneva, WI %
Apr 30 – Barnstormer III, Champaign, IL %
May 1 – Barnstormer III, Maquoketa, IA %
May 21 – The Mill, Iowa City, Iowa @
May 22 – Carleton College, Northfield, MN @
May 23 – Varsity Theater, Minneapolis, MN @
May 25 – Pabst Theater, Milwaukee, WI @
May 26 – The Dome House, Bloomington, IN @
May 27 – The Brass Rail, Fort Wayne, IN @


(top pic from my Wheel/Bon Iver set from last summer)

3 comments
3 Comments »
Leave a comment