February 21, 2010
I've been listening to a good deal of Hole these last few days, since reading about Courtney Love's return to band form and the live stage after a decade. I've also been mulling over ideas about Kurt Cobain's argued influence on their whizbang, still-excellent-sounding 1994 album Live Through This.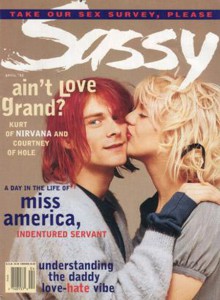 I think I'm going to go read some conspiracy theories on the subject, ponder whether attributing her good album to the nearest (musical genius) man is offensive, and enjoy listening to this:
Asking For It (feat. Kurt Cobain) – Hole



[Magazine scan via this post; How Sassy Changed My Life
? I was a fervent subscriber and still have all the issues in my basement. So I just ordered the book.]

13 comments
13 Comments
Sorry, the comment form is closed at this time.