February 16, 2010
The Clogs are a somnolent musical endeavor of Bryce Dessner from The National (who just confirmed for Sasquatch but I suppose that's another post altogether), and friends he met while studying at the Yale School of Music: Padma Newsome (viola/melodica/voice/piano), Rachael Elliott (bassoon), and Thomas Kozumplik (percussion).
Similar to their friend Doveman, the dark and dreamlike music they create finds its home on the Brassland record label, and since they like to keep it all closely knit, the album also features Matt Berninger and Aaron Dessner of The National, Sufjan Stevens, and Shara Worden of My Brightest Diamond.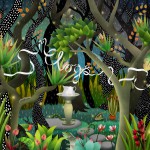 The Creatures in the Garden of Lady Walton is their fifth full-length, and starts shipping today from Brassland directly (CD+EP or CD+shirt).
It will be in stores on March 2.
Red Seas – The Clogs

Also, this instrumental song from their Veil Waltz EP ("a prologue to the album") makes me feel suddenly and untraceably wistful.
Three Two – The Clogs

CLOGS TOUR DATES
Feb 19 — Minneapolis, MN @ Southern Theater
Feb 20 — Minneapolis, MN @ Southern Theater
Mar 22 — Listen to them on WNYC
Mar 24 — New York, NY @ Bell House w/ Ólöf Arnalds and Julianna Barwick (album release party)
Mar 26–28 — Knoxville, TN @ Big Ears Festival
UPDATE 2/17: "Big Ears Festival, March 26-28: Sufjan Stevens along with Matt Berninger and Aaron Dessner of The National and Shara Warden (My Brightest Diamond) will be joining Clogs in their performance of the new song cycle 'The Creatures in the Garden of Lady Walton.' This will be the only live performance of the piece currently scheduled with all of the guest vocalists from the album."

6 comments
6 Comments »
Leave a comment