December 16, 2009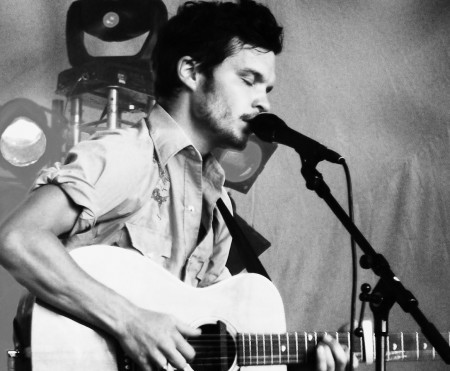 Swedish folk songwriter The Tallest Man on Earth (Kristian Matsson) has been slaying me since springtime with his song "I Won't Be Found," my immediate favorite of all his music so far. With vivid storytelling ability, there is a yowly, authentic soul behind this intricate finger-plucking guitar melody — a song like staccato rain on a summer roof and itinerant wanderers, walking away down a grassy path.
But then I heard this bitterly wistful version, accompanied by that slow piano, and it kicked my legs out from under me — kind of like the way that Ryan Adams' "Avalanche" did the first time I listened to it, one dark night on my car stereo:
I Won't Be Found (Daytrotter version) – The Tallest Man On Earth
Deep in the dust forgotten gathered
I grow a diamond in my chest
and I make reflections as the moon shine on
turn to a villain as I rest…
I'm gonna float up in the ceiling
I built a levee of the stars
and in my field of tired horses, ah
I built a freeway through this farce…

Since I'd missed the original Daytrotter session in October, I first stumbled onto this on the Music vs. Misery blog (where you need to get the original version, terrific in its own way). After I listened to it a good half-dozen times in a row, feeling all sorts of unmentionable melancholy bubble up inside of my chest, I knew I needed to repost it here.
The Vancouver-based author of Music vs Misery (Megan) is one of my favorite, truest voices in the music blog world these days, and one that I connect with completely as she wears her heart right out there on her sleeve as I do. The fact that her blog is named for a Nick Hornby quote (from a book I am currently re-reading) doesn't hinder my affections either. Go spend some time there, and while you're at it, sit with this version of the song for a while. Stuff percolates up when you do.

(Oh — and if Kristian Matsson's folk legacy aura wasn't already apparent enough, you should listen to the rugged backwoods banjo deliciousness of his cover of Bob Dylan's "I Want You" on the Daytrotter session. Similar to the way I feel that Joe Pug's music is important and laced with immense potential, I am so excited to see where Matsson goes next as an artist, how he develops.)

8 comments
8 Comments
Sorry, the comment form is closed at this time.