December 7, 2009
It turns out that the new Phoenix album barely missed my top ten this year, but I know I've listened to it a whole heck of a lot. In fact, it's in my car right now and it hasn't left the player in another one of those weeks-long stints.
It's catchy and sleek, but there's weight and depth behind the songs, and you cannot understate the lure of that ephemeral exotic attraction — it's the same reason American girls like going out dancing with foreign exchange students.
The formidably marvelous filmmaker Vincent Moon recently followed them about in Paris, and as always, the results on La Blogotheque are stunning.

[watch the whole set/3 videos here]

Lisztomania – Phoenix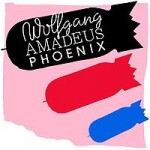 Phoenix are from a suburb of Versailles, and their humbly-named fourth album Wolfgang Amadeus Phoenix
is out now on V2/Glassnote Records.

9 comments
9 Comments
Sorry, the comment form is closed at this time.