November 2, 2009
After I peeled off the rainbows and scrubbed the last traces of red lipstick off the morning after Halloween, I set out to find the Borders bookstore in the farthest reaches of Denver suburbia I've yet had the disoriented pleasure of venturing to. Irish songbird Lisa Hannigan was performing a free in-store at one o'clock on Sunday and I was thrilled to get to see her in such an intimate setting.
Lisa's voice is absolutely, quietly, and thoroughly devastating. I first heard her, as most of us did, singing the haunting counter-melodies and duets with Damien Rice on his stunning breakout album O in 2003. In addition to her captivating parts on songs like "The Blower's Daughter," did you ever hear the final hidden a cappella track at the very end of that album? Like whoa:
Silent Night – Lisa Hannigan

Since she parted ways with Damien, I've been following her work with the Cake Sale charity benefit and a handful of unreleased works that would occasionally surface between her and Rice. But Sea Sew (out now on ATO) is an album I've been waiting for, and although it's been out for months now, Sunday was the first time I had really let the whole thing come to life and dance and grieve for me in a cohesive way. I now am sure it's one of my favorites of the year.
There's an unvarnished air of clean-scrubbed honesty and serious inquiry on this album. In addition to set highlights like the charming imagination of "I Don't Know," and a new song called "Passenger" that traces her travels around the USA with someone on her mind, Lisa closed the set with the final song on her album, "Lille," just as I was fervently hoping she would.
I first heard and wrote about this song a year ago when things seemed much rockier and sharper in my life. The line "went to war every morning," got me then and still gets me now. If you've read this blog with any regularity, you know that sometimes my eyes tend to water (!) with the right gut-punch of a song, and I found myself sitting next to the Christmas ornament display in a brightly lit Borders, blinking back tears at the way she delivers this song live. It's absolutely perfect.
But this time, amazingly, instead of feeling the most affinity to the lines about going to war, in this year I felt it most when she sang, "what you said in my arms … what i read in the charms that i loved durably, now it's dead and gone, and i am free…"
Lille – Lisa Hannigan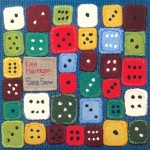 You must must must please purchase her new album Sea Sew. Nominated for the prestigious UK Mercury Prize this year, and already platinum in Ireland, the album is laced with clever word pictures, coyly delightful musings on love and life, a kaleidoscope of instruments ("Is there anything she doesn't play?!" my sister asked me, as Lisa picked up a keyboard with a windpipe to blow into) but most of all — that gorgeous, gorgeous voice.
I'm in love, even more than I was before. Not a bad outcome for a Halloween weekend.


Ocean And A Rock
…i feel you in the pocket of my overcoat
my fingers wrap around your words
they take the shape of games we play
i feed your words through my buttonholes
pin them to my fingerless gloves
green and prone to fraying
thoughts of you warm my bones
I'm on the way, I'm on the phone
let's get lost, me and you
an ocean and a rock is nothing to me
i keep you in the pockets of my dresses and
the bristles of my brushes spin you
into my curls today
I spoon you into my coffee cup
spin you through a delicate wash
I wear you all day…

9 comments
9 Comments
Sorry, the comment form is closed at this time.