October 2, 2009
All of the talk about the spacey free-jazz wonk on Sufjan Stevens' new songs reminded me of some favorite collaborations he's worked on in the past, like the humble harmonies of his duets with Rosie Thomas.
Say Hello (rough mix) – Rosie Thomas & Sufjan Stevens

There's a childlike vulnerability and very grown-up beauty in Rosie's voice, and listening to it tonight reminds me of many many nights last winter when I'd sit in semi-darkness with only her voice playing softly, achingly on the wood-grain stereo.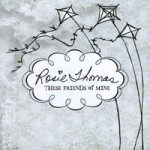 She's been making music for several years now, sometimes with Sub Pop Records, and has worked with a handful of those sensitive musician fellas I love like Damien Jurado, Sufjan, and Denison Witmer.
This song was on the Say Hello EP, with the finished version on These Friends Of Mine (2007).

4 comments
4 Comments
Sorry, the comment form is closed at this time.