September 7, 2009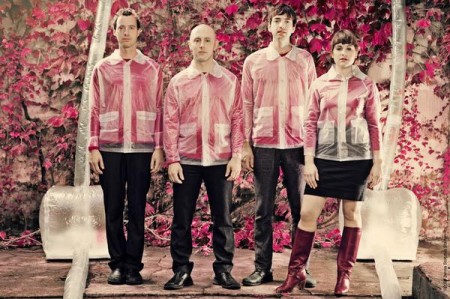 The Swimmers first swam across the backyard pools of suburbia in 2007 to win my heart with their loose musical interpretation of the 1964 surreal short story "The Swimmer" (by John Cheever), about a disenchanted man who decides to swim home from a cocktail party through the teal pools in his subdivision. Fighting Trees was a bright and dreamy pop album with solid literary underpinnings, full of float-away songs about drowning, diving, and other ways of getting wet. It was one of my favorites of the year.
To my great joy The Swimmers are back after two years, and the first song I've heard off their sophomore release People Are Soft (out November 3) is decidedly crunchier, louder, and somehow even more delightful. This song starts like a gloriously iridescent Nada Surf b-side, before combusting near the one-minute mark with fuzzy-staticky electronic beats that made me think of that one song from Starfucker that I can't get enough of.
In short – this song has charm in droves and I've been listening to it on repeat, maybe 25 times this weekend, no lie.
What This World Is Coming To – The Swimmers



Also notable about this release is the fact that it's coming out on MAD Dragon Records, the student-run label of Philadelphia's Drexel University. I just sat in my office Friday on a college campus, chatting with a student about potential for cool music initiatives on campus, and this is one school I am jealous of.

1 comment
1 Comment
Sorry, the comment form is closed at this time.