July 12, 2009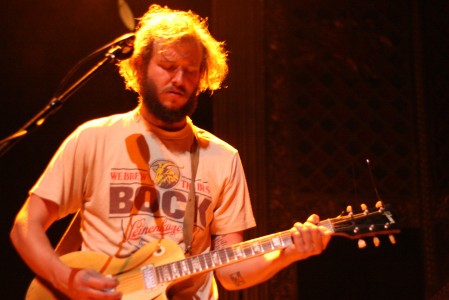 I've never heard the Ogden Theatre held so tightly under a blanket of silent reverence as it was last night for the Bon Iver show, with Denver's marvelous The Wheel opening. Some said you could have heard a pin drop at the sold-out show, on one of the most sweltering nights of the summer so far.
There is pure, unfettered, urgent, honest magic in the music of Bon Iver, there is no denying that. For an album that some think of as hushed acoustic woodland grieving, there is also a lot of potential for a live show that rages like a howling river. First off: the man travels with two drummers. That alone is enough to win my heart completely. The songs grow and explode live, and knock you off your feet. Justin excoriates with his guitar freakouts, and pounds on his keys. It's a cavalcade of something intensely real.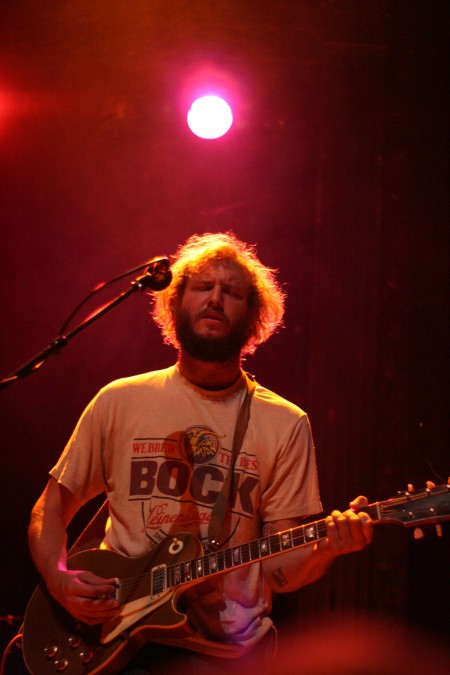 Taking the stage with fluffy longer hair that grows even more majestic when illuminated by golden spotlight from above, Justin sat down and the crowd was immediately silent, waiting. He started the set the same way the album begins, with the opening strums of "Flume": I am my mother's only one. It's enough. Thirty seconds in and we already have a lump in the throat here — that's one of my absolute favorite lyrics he's written, for quiet personal reasons. From there, he led into an extended, experimental intro to "Lump Sum," and as the meandering faded away, the familiar, pulsing melody drew us back and it felt so right.

Flume (Daytrotter version) – Bon Iver (via)
Lump Sum (MOKB/Laundromatinee version) – Bon Iver (via)
After a jawdropping, electrified ending to "Creature Fear," someone down front with me yelled, "You're a genius!" to which Justin quickly shot back, "You're drunk," as he smiled. But I would agree with gentleman #1 in the audience — it was an exceptional, gorgeous show. I knew what to expect, I'd been exposed to his music live before, and he still blew me away, absolutely.
With only one album and an EP to draw from, Justin laughingly promised as he tuned his guitar between songs, "We're gonna play all the songs we know tonight, let's put it that way." And they did – as well as "Brackett, WI" from the Dark Was The Night compilation, and a Jayhawks cover, among others.
In a moment of humble and unaffected loveliness, the Jayhawks song they covered was "Tampa to Tulsa" (from their 2003 album Rainy Day Music) during the encore, with the band sitting around a single center microphone. Watch what I saw:
The night ended with  the loudest singalong I've ever personally been a part of, of "Wolves (Part I and II)". By that point I was standing in the back near the fresh air and relief from the sweltering heat inside. Usually, the back of the club is where the talkers and chatty drinkers congregate, but as Justin urged us to sing along to "what might have been lost," I looked around and every single person I could see was singing their heart out into the humid darkness, many with eyes closed. That song crests like a huge wave, and as both drummers pounded their hardest, each beat shot like an electric jolt into my chest.
It was the most beautiful moment I reckon I'll see in concert for a while, and everything I want to be a part of.
Openers The Wheel were playing to a hometown crowd, but nonetheless got the loudest prolonged-cheer reception I have heard for any local band in a long time. Their intricate, melancholy songs are steeped in goodness and ready for a larger stage. The band is magnetically led by the wry, exceptional voice of frontman Nathaniel Rateliff (Born In The Flood) who in the oddest coincidence that you ever think could sound good, vocally evokes a young and impassioned Neil Diamond minus the glitter. The technicolor songs pack a punch, yet sounded timeless through a symphony of strings, aching harmonica and guitars, piano, intuitive drumming, and vocal harmonies that cut through the venue and held everyone's attention.
If I were voting for my favorite Denver bands, say, for a local music festival competition, I might put The Wheel in the top 5. Hypothetically. Check these guys out.
Just For Me, But I Thought Of You – The Wheel (I love this so much)
My Hanging Surrender – The Wheel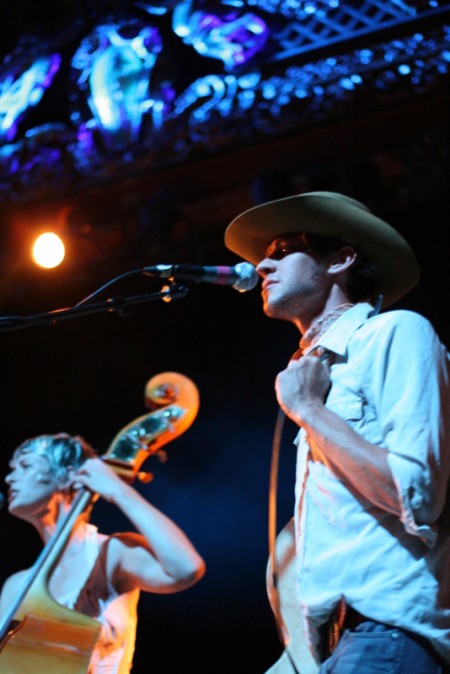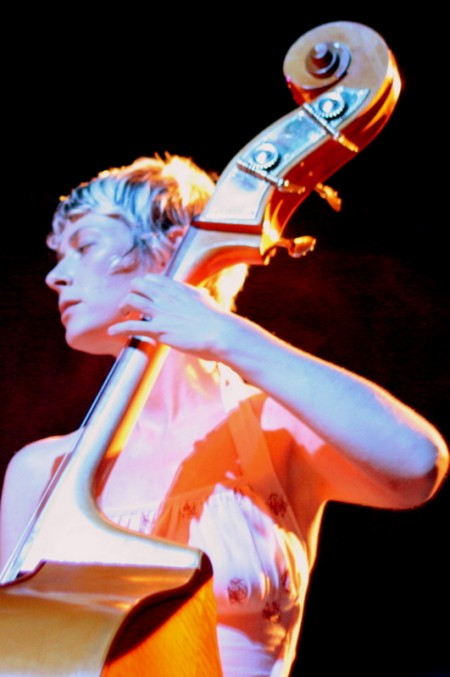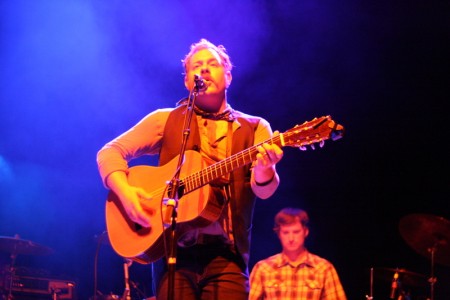 13 comments
13 Comments
Sorry, the comment form is closed at this time.