June 18, 2009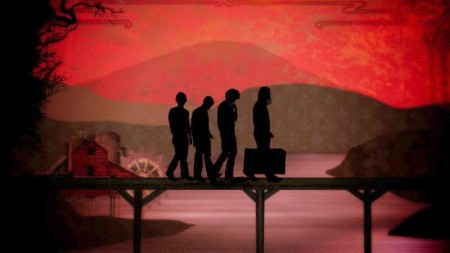 Ha Ha Tonka has a band name that sounds like something one would yell when opening miniature metal trucks at your seventh birthday party, but actually the name is borrowed from a state park in the Ozarks. This Missouri foursome has just given me the latest zinger straight to the jugular.
Starting with a rueful fingerpicked melody, this immense song crashes cathartically into electric southern swagger akin to musical compatriots Kings of Leon. And the title lyric intrigues me with the jaded competency it boasts; something I've never been too good at.
Close Every Valve To Your Bleeding Heart – Ha Ha Tonka

Always thought I was a novelty little creature,
nobody warns you that the death of hope won't feature
any sort of big event
to mark its significance
After we finish ourselves off, we ain't leaving
it's good to go down with an old friend believing
you better bet, we're gonna tie one on tonight
you never left even though you'd said that you might
I come back here to remember what it was like
Only Dostoevsky would dream up a pair like us.

Thick skinned, hard headed, better off
you're closing every valve to your bleeding heart
Does it hurt too much?
Are you just fed up?
Or is it something else entirely?
When I ask you why
you reply the death of hope hit you hard too…
Only Dostoevsky could kill off a pair like us.

You better bet, we're gonna drown every doubt
the half of us that's got the other half figured out
no good deed goes unpunished around here
You better bet, we're gonna tie one on tonight
you never left even though you'd said that you might

I come back here to remember what we were like.
Novel Sounds of the Nouveau South came out earlier this week on Bloodshot Records (Justin Townes Earle, Deadstring Brothers).
For more music, check the four free live renditions at Daytrotter, and through today you can stream the full album here.




HA HA TONKA TOUR DATES
June 19 – Philadelphia, PA – North Star Bar
June 20 – Cambridge, MA – Middle East
June 22 – Brooklyn, NY – The Bell House
June 23 – Toronto, ON – The Horseshoe
June 24 – Hamtramck, MI – Small's Bar
June 25 – Cleveland, OH – Beachland Ballroom
June 26 – Cincinnati, OH – Southgate House
June 27 – Indianapolis, IN – Locals Only
July 27 – Denver, CO – Hi-Dive
July 28 – Salt Lake City, UT – Kilby Court
July 30 – Spokane, WA – The Blvd
July 31- Seattle, WA – Sunset Tavern
August 1 – Portland, OR – Dante's
August 4 – Sacramento, CA – Blue Lamp
August 5 – San Francisco, CA – Rickshaw Stop
August 7 – Los Angeles, CA – Bootleg Theater
August 15 – Bloomington, IL – Hot August Nights
I'll miss the Denver one to be in SF, and leave SF before the show there. Gah.

9 comments
9 Comments »
Leave a comment