June 12, 2009
Swooping and melodic, with a voice that undoubtedly reminiscent of a young David Byrne or Clap Your Hands Say Yeah, Fanfarlo evokes the freshness of springtime to me. Following the success of their record over at Rough Trade recently, where it was album of the week and flew out the proverbial door, they are offering Reservoir for only $1 from now until July 4th. That gives you a few weeks to shell out for this ebullient gem and have the perfect soundtrack for your summer BBQ festivities and sittin' by the crick with a campfire.
When you download it now, your 100 pennies also buys you four bonus tracks not on the record. Their chiming crescendos of songs are perfect to watch outdoors in Austin. This video was shot in a quiet neighborhood alley at SXSW in March.

Secret Garden Video Series: Fanfarlo (SXSW Edition)
from hoovesontheturf on Vimeo.
And here — sample a few more: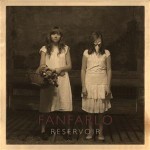 Finishline – Fanfarlo
I'm A Pilot – Fanfarlo
Luna – Fanfarlo
But, I think my favorite song of theirs still might be Harold T. Wilkins (watch this fantastic video, all bright lights and science experiments).

9 comments
9 Comments
Sorry, the comment form is closed at this time.