April 22, 2009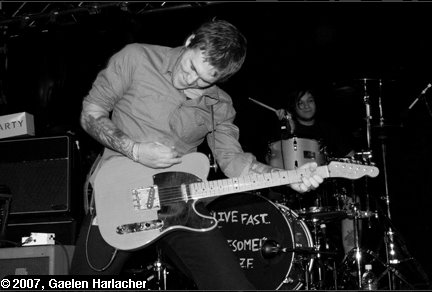 Tomorrow night and Friday, I am anticipating two rather blissful nights with The Gaslight Anthem. Thursday surprisingly brings them to the Black Sheep in my neck of the woods, and the chance to see this raging powderkeg of a band play in a little cinderblock club out on the strip by the pawn shops. It's $12, and I have a feeling this will be the last time you can see them in such an intimate venue — they are rumored to be the openers on Green Day's upcoming megatour. Friday brings them up the highway to Denver's Gothic Theatre and I plan to be there as well. Notable openers are the Heartless Bastards.
The music of the Gaslight Anthem carries the urgency of youth mixed with the weight of decades past. On The '59 Sound (one of my favorite albums of last year), sometimes it is hard to tell which generation they actually belong to. I have been enjoying this iTunes-only bonus track from the album specifically because it feels like it's a story that's coming to me from a long way off.
Once Upon A Time (bonus track) – The Gaslight Anthem
If my sources are correct, I think this is a cover of the band Robert Bradley's Blackwater Surprise from their 1996 album. Go figure.

[Thanks John! Photo credit Gaelen Harlacher. "live fast, die awesome."]

8 comments
8 Comments
Sorry, the comment form is closed at this time.