April 11, 2009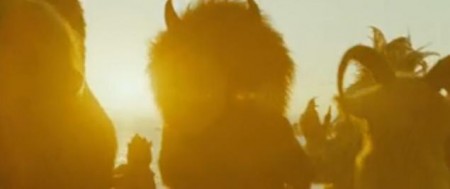 "The night Max wore his wolf suit and made mischief of one kind and another, his mother called him 'WILD THING!' and Max said 'I'LL EAT YOU UP!' so he was sent to bed without eating anything. That very night in Max's room a forest grew and grew – and grew until his ceiling hung with vines and the walls became the world all around and an ocean tumbled by with a private boat for Max and he sailed off through night and day and in and out of weeks and almost a year to where the wild things are…"
Tonight I sat in a dimmed theater and watched a preview for the film adaptation of Maurice Sendak's classic Where The Wild Things Are
. My ears perked up from the opening strums of Arcade Fire's soundtrack to the scenes of ferocity in golden sunlight. Forthcoming from director Spike Jonze, Karen O (Yeah Yeah Yeahs) is also listed as one of the music directors.
I kinda like how this mini-mp3 I ripped (two minutes, totally listenable) ends with barbaric yawps. It is fitting to the spirit.
Wake Up (Where The Wild Things Are version) – Arcade Fire
"Our bodies get bigger but our hearts get torn up."

7 comments
7 Comments
Sorry, the comment form is closed at this time.