February 28, 2009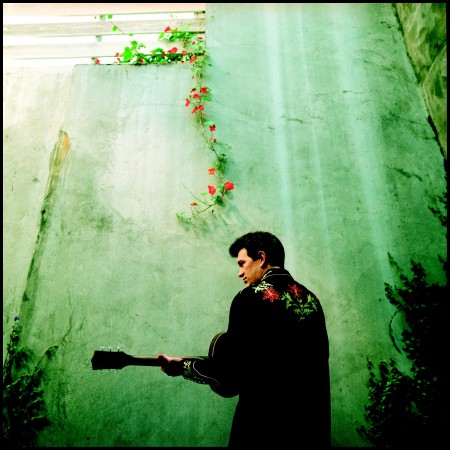 San Francisco's surf-troubadour Chris Isaak rolled back into my life last week with Mr. Lucky, his first new studio album since 2002′s Always Got Tonight and 1998′s Speak Of The Devil, both well-loved albums that I've listened to hundreds of times over the years and still delight me.
Isaak is a stylistic anomaly, consistently making good tunes that defy the times. There's a bit of the California Blue of Roy Orbison, the golden slide guitar and twang of shiny old country, and the marvelous malleability of his unmatched lonesome warble. Over the years, Isaak has traversed surf music territory, Spanish adobes in the hot sun, wrenching little acoustic blues ballads, and good ole rock and roll. I've seen him in small sweaty San Francisco clubs and it's the closest I've ever felt to Beatlemania, Elvis faintings, and that flutter of girlish embarrassment. He always evokes the winter waves crashing under the Golden Gate for me.
I adore Chris Isaak, this I will readily admit. I once had a real good friendship that first sparked over a shared love of Isaak. I think it's rare to find two kids these days (by kids I mean twenty-somethings) who appreciate the bright talent of Chris Isaak, so those days remain an unparalleled treat. Listening to his new album this weekend, especially the bittersweet harmonies of his duet with Trisha Yearwood on "Breaking Apart" (an older song), makes me a bit melancholy for the things we've lost. His music is always, always good for that – - Forever Blue remains one of the greatest albums about the end of a relationship that I own. After all these years, I'm still interested in what he's doing next.
I've been streaming the whole album this week through his MySpace, feeling out the sway and the break that somehow always feels immediately familiar. "You Don't Cry Like I Do," is an immediate (sad, sad) favorite, while "We Lost Our Way" makes me want to hit the California highway, ocean teal out the windowside. His songs remind me of places that once were home.
This tune from Mr. Lucky has been a favorite of mine, finally receiving the proper album treatment. Originally buried as an Australian b-side, it always makes me smile from start to finish. Something so simple, so immediate, so…seventeen about those lyrics.

Best I Ever Had – Chris Isaak

San Franciscans!! Go see Isaak Monday night at Amoeba, 6pm.
Do give him a kiss for me.

[photo credit Wolf Trap]

7 comments
7 Comments
Sorry, the comment form is closed at this time.