February 5, 2009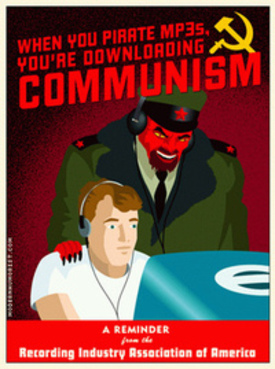 Several months ago, good friends of mine who have passionately and thoughtfully blogged about music alongside me for the last few years started receiving notices that posts alleged to contain "illegal" music were being completely deleted from their Blogger sites. Gone. No warning, no chance to remove music or contest the deletion.
Many of the songs were originally posted with label or promo company permission, even encouragement. Many of the illegal posts were old, and thus contained dead links, so it was all a bit pointless. One guy had even posted a long and well-written interview with a band that had provided some free demos to fans. They went on to get signed to the majors; he went on to find the post vanished into the ether, along with all his hard work and creative writing.
This isn't okay with me. I truly pour myself into this site and writing genuine words about the music I love,  in what I hope is a thoughtful and engaging way. The thought that I could wake up to find parts of it totally gone – well, it freaked me out.
My friend Jeff Weiss (from Passion Of The Weiss) wrote an exhaustive article for the LA Weekly that ran yesterday, all about Google's censorship tactics. It seems a bit like the left hand not knowing what the right hand is doing, and oft-well-intentioned bloggers losing their work in the crosshairs. I'm happy now here, in my own fifedom (with the irreplaceable help of the guys from DayJob), and on my own server. I feel regretful that Google has taken to these tactics without a full understanding of how not all music bloggers are 13-year-old kids posting links to the full new pirated Fall Out Boy album. I watch with curiosity to see how long it takes all facets of the industry to get whatever new paradigm we are crafting here together.
(In the meantime, when we go to jail, um… can we share a cell?)

20 comments
20 Comments
Sorry, the comment form is closed at this time.