January 3, 2009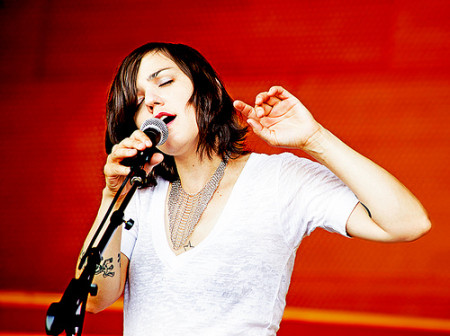 There are a handful of artists I've seen live who absolutely transfix me as they craft their songs: Trent Reznor acoustic at Bridge School, Andrew Bird, El Ten Eleven, and other wizards. The science of layering and looping still ignite wonder in me, and as I wrote when I saw El Ten Eleven:
"The vague confusion that I felt when I first walked in on their set ('Wait — I am hearing sounds that are not currently being played by those hands I see in front of me…') slowly melted into a hot flush of wonder. I'm a sucker for cool loops. Watching Kristian lay down one bit of melody and then another, effortlessly weaving in and out of different sounds with a flick of a finger across the strings — it was sort of like watching a magician at work, albeit in sneakers and a striped t-shirt."
Well heck, Emily Wells just swooped in and hovered in front of me for a few minutes with her ethereal, evocative music while my cheeks flushed hot watching. My friend taped this in the Utah radio station where he has a show; jaded radio people were apparently coming out of their offices, craning their necks, and whispering questions about who this impressive young lady was.
Just off tour with Thao Nguyen, Wells says of her live performance: "All the live looping is like a sporting event, or keeping the first take of every recording. I could fall off the balance beam . . . which makes it all so much more exciting." A violin whiz by elementary school and fielding major-label deals by 17, Wells held out instead for her own independent music-crafting career and unfettered creative exploration. Over virtuoso violin, her fearlessness in vocal range and experimentation calls to mind artists like Bjork or Tori Amos — and she lists Joanna Newsom, Aphex Twin, and Biggie Smalls among her influences.
Symphony 1: In The Barrel Of A Gun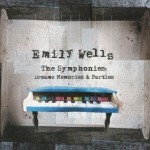 Her self-released current album is called The Symphonies: Dreams, Memories, and Parties ("10 songs heavily influenced by classical music and hip-hop production") and you can find information on buying it here. I hear when you buy it, she usually includes a note on a postcard.
You must also now watch her cover of Notorious B.I.G.'s "Juicy" (also captured live at KRCL in Utah). How can you not adore this woman?

11 comments
11 Comments
Sorry, the comment form is closed at this time.