September 25, 2006
So I woke up Sunday morning to a thick dusting of snow on Pikes Peak and surrounding mountains. Breathtakingly beautiful, yes. But I really do not know if I am ready for winter again. I kind of like my flipflops.
Well, the bright side of the picture as we are now into Fall and cruising towards shorter days and longer nights: more downtime to listen to music? Here's a few to start your week off in style.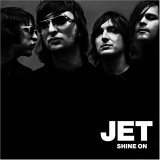 Kings Horses
Jet
The melodic influences of the Beatles (and their latter-day disciples Oasis) are brushed in wide, vivid strokes all over the new forthcoming album (Shine On, due Oct 3) from Aussie rockers Jet. Where before you probably knew them best for the tambourine-shaking, fatty bass line, Lust-For-Life ripoff "Are You Gonna Be My Girl?" (which was used once in Alias where Sydney was dressed up like a kickass punk rocker with a mohawk, Docs, and a short plaid skirt, so she's always the "girl" I think of when I hear that song), their newest effort is a lot prettier, with harmonies, woo-woo-woo backing vocals, strings, and expansive guitar lines. First single "Put Your Money Where Your Mouth Is" carries the torch of previous rowdier songs, but there is a lot more depth this time around. Sounds pretty good to me, I've been listening to it all weekend.
Sometimes
Howie Beck, featuring Matthew Caws of Nada Surf

Toronto singer/songwriter Howie Beck was someone I hadn't heard of until recently, and I admit I took a listen because of the people he has worked with: Feist, Josh Rouse, Jason Collett (Broken Social Scene), and Matthew Caws (Nada Surf). Those are all positive associations to my ears, but as I listen to more of Howie, I hear that he is a talented and polished musician in his own right. The shimmering, sure guitar melodies on this track, blended with the honest lyrics, make for an enjoyable introduction. His self-titled album was re-released last week in the US on Ever Records, a follow-up to his 1999 album Hollow, which was highly acclaimed by the British press following its release on Easy!Tiger in the UK.
Sweet Lady
What Made Milwaukee Famous
So these guys are completely NOT out of Milwaukee, rather their name is a nod to a lyric from Jerry Lee Lewis, which is all good in my hood. What Made Milwaukee Famous are from Austin, Texas, and have a bright, fun, singalong pop feel to their music (rather than the grey and snowy Schlitz-drinking soundtrack I had expected). Toe-tapping and fantastic, this song really wants to be the first track on your next mixtape. From the Barsuk Records re-release of their Trying To Never Catch Up album (August 2006, recommended).
She Moves In Secret Ways
Polly Paulusma
Thank you again to the free music from Facebook. I doubt I would have otherwise ever stumbled across Polly Paulusma, a British singer-songwriter with both smarts (Cambridge, Ph.D program) and vocal cords to love. Her charming folksy sound and earnest timbre reminds me a bit of Aussie Missy Higgins. This song has a rich, melodic, catchy, coffeehouse-show feel, lovely for the first chills of autumn. Also listen and tell me if parts of the melody and humming voices aren't completely reminiscent of the best parts of "Trapeze Swinger" (Iron & Wine). This is off her self-produced 2004 album Scissors In My Pocket.
Supernatural Car Lover
Robert Pollard
I've joked here before about Bob Pollard's prolific songwriting (sometimes right up there with Ryan Adams in terms of quantity), as well as his wildy varying quality. You kind of never know what you are going to get. Following the eclectic From A Compound Eye, which he just released earlier this year, his new album Normal Happiness seems to exude a more upbeat, accessible, "normal happy" vibe. Most of the tunes on this album clock in at somewhere around 2 minutes, and they pack a fast and tuneful punch. This particular cut has the ability to stick in your head for days at a time. Normal Happiness is due Oct 10 on Merge Records.

1 comment
1 Comment
Sorry, the comment form is closed at this time.