December 8, 2009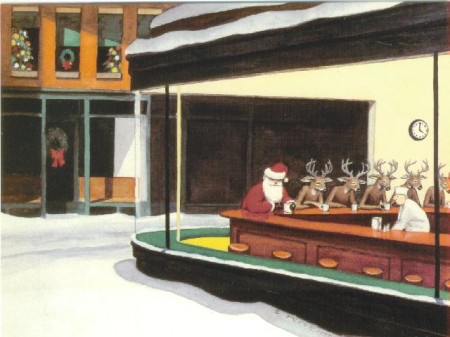 Well today is a snow day in my part of Colorado, bringing everything outside to a deadened, frozen, thickly-blanketed crawl. It's gorgeous and quiet, and perfect weather for putting the finishing touches on my annual Christmas mix. I do love Christmas music, as you might remember from past years, but I also have a picky palate and am always amazed when I turn on the radio (as I did last night while we played cards) at how many many Christmas songs should have never been made. If I have to hear "Wonderful Christmastime" again, I might gouge out my eardrum with a candy cane to the beat of those synthesizers.
Even though there's room on this mix I've made for the fun and light-hearted (I am in love with the opening remix track), I do tend to find myself drawn to the reflective and traditional songs at this time of year. Maybe it's some slight seasonal affection disorder, or the natural rhythms of winter — or an internalization that this is a month of hope and light but that there is such need out there as well. I went to an ecumenical advent service this weekend at the old stone chapel on the college campus where I work, and one of the professors from the Classics department read a bit from the book of John about how the light shines into the darkness, and the darkness does not overcome it. I found the simplicity of that inspiring in a way that surprised me. I sat there in the candlelight thinking about dichotomies of light and dark, hope and despair, kindness vs. letting ourselves be hard and stony.
Anyways, there's a bit of reflection from me on how this season is wrapping itself into my thoughts, as I sit here beside this pretty twinkling Christmas tree, warm under a fuzzy blanket. I also delight in how all these music blogs have made such a rad collection of alternative holiday tunes available for the endless mixing.
Now I'm gonna go watch Elf.
…Oh! and we'll hope Edward Hopper won't mind the bastardization of his moody Nighthawks painting too much. It made me smile, and is exactly how I feel today.

FUEL/FRIENDS CHRISTMAS MIX 2009
White Christmas – Corporal Blossom (from the free Very Bootie Xmas comp)
O Christmas Tree – The Layaways (free track from their Christmas album)
Kamikaze Christmas Economy (I Owe) – Jeremy Fisher (free track from last year, great artist)
The Warmest Part of Winter – Voxtrot
River (Joni Mitchell cover) – Lex Land
Listen To The Choir Sing – Ian McGlynn
Murder by Mistletoe – Felice Brothers
First Christmas – Boyracer (from their Christmas EP)
Goodbye England (Covered In Snow) – Laura Marling
Winter Winds – Mumford & Sons
O Holy Night – Cary Brothers (from his Father Christmas EP)
I Know The Reason – Mindy Smith & Thad Cockrell
Grateful For Xmas – Hayes Carll
Have Yourself a Merry Little Christmas – Chad Johnston
Blue Christmas – Bright Eyes
Seasonal Persuasion – Caithlin de Marrais
Holly Leaves and Christmas Trees – Elvis Presley
I Wonder As I Wander – Woven Hand (from the free Familyre Christmas Vol. 1)
Christmas Eve Can Kill You – The Everly Brothers
It's Almost Christmas – Chris Garneau
Snow Angels – Boca Chica (from the Indiecater Christmas 2009 album)
All I Ever Get For Christmas Is Blue – Over The Rhine
Winter (Curled Up Toes In Red Mary Janes) – Jenna Nicholls
O Little Town of Bethlehem – The Innocence Mission (from the free Familyre Christmas Vol. 2)
New Year's Eve – Team Five
I'll Be Home For Christmas – Amanda Rogers
Silent Night – Zach Gill (from last year's This Warm December comp)

ZIP: FUEL/FRIENDS CHRISTMAS MIX 2009

HO-HO-HO-BONUS:
2007 Fuel/Friends Christmas Mixery
2008 (Naughty/Nice) Fuel/Friends Christmas Mix

40 comments
40 Comments
Sorry, the comment form is closed at this time.