May 8, 2012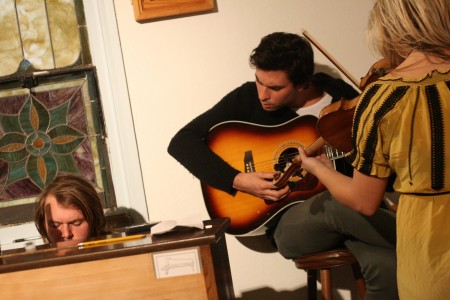 Ten days shy of the one-year mark from the Saturday morning in March 2011 when we recorded our very first fledgling chapel session ever, my friends in The Head and the Heart made a special trip south to meet me at my house one Friday so we could head into the chapel again. I'd left my door unlocked for them, and walked in to them eating the leftover Cuban black beans I'd mentioned in the fridge, with a Townes Van Zandt documentary on the television, and music doo-wopping on the kitchen stereo. I loved how much it felt like home again to all of us.
It has been a hell of a year, a rollercoaster that I'm sure was hoped for but never would have been predicted when I first met this band in the summer of 2010. After their debut album wowed people and their live show exploded across the US (back and forth and back again), Europe, and even Australia, it's been gratifying to see their exuberant songs of home resonate with so many. The album that's out now was recorded over two years ago, and while the band has always had a fertile creative process and freely experimented with new songs in their live set, actual recordings of these songs are hard to come by while we wait for the sophomore effort.
Therefore I feel pretty dang lucky to get to peel the lid off this second Fuel/Friends Chapel Session with The Head and The Heart, filled up with new and re-envisioned songs. They're the first band to come back for another go-around. This session was recorded in a very small, secret-feeling white clapboard chapel nestled next to a creek in the Manitou Springs foothills on the way to Pikes Peak, amidst all the resonant golden wood and humble stained-glass windows. It was called Our Lady of Perpetual Help, and felt like Sunday school. I palmed the keys and let us in those creaky painted doors with no one around but maybe the church mice, and the songs started unfolding.
The session was laced with the fresh. I just laughed to myself as I re-read what I wrote about that very first session: "After multiple takes of whatever felt right, three of the four songs we ended up with here are not recorded or released anywhere else, and the fourth is reinvented."
Ditto on this one: three new, and one reinvented. Bookends.

THE HEAD AND THE HEART
FUEL/FRIENDS CHAPEL SESSION (MARCH 2, 2012)

Honey Come Home (chapel version)
The version of this song on their debut album sounds downright jaunty in comparison to this fingerpicked, darkly re-worked rendition. Here the song is weary, and almost completely defeated. It sounds older. It sounds bruised and slow and exhausted. None of these things are bad things, because the sentiments Josiah is singing about are difficult and they are sad. The laser focus of grief in this version smolders and hurts, echoed somberly by Charity's prescient and mournful backing vocals, and I am immediately drawn to it.
I feel like this version of this song could have only come two years after the album version. "…And I am ready to be home." This time, I might believe him.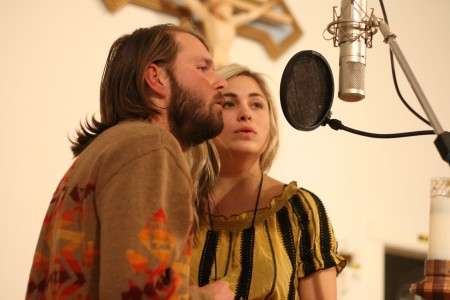 Gone
Starting with lyrics about sailing into the fog and vanishing, this is an unreleased song that strongly invokes a departure from a solidly known shore and a journey away. It's been a fast favorite since I first heard it in 2010, then googled various live versions and fell in love with it. There is the resonance in the naked wail of a confession that we are tryiiing here. On this version, Jon growls a little in seeming frustration. Don't send me no postcards telling me you miss me. Maybe sometimes we don't want to miss anybody.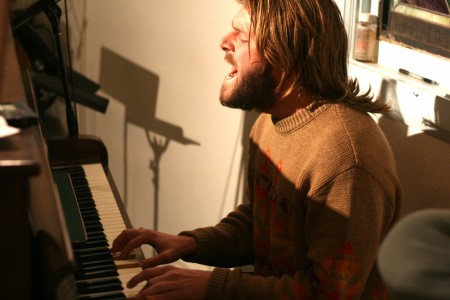 Fire/Fear
This is a brand new song that I had never, ever heard before, and hoooo is it a kicker. This is the second time in the chapel that Josiah has brought something completely new, working out chord changes and sketching notes in the margins. After listening to the first performance (because I am linear in my narrative and always like tracing connections) I told Josiah that it sounded like a bookend to the song "Honey Come Home" – the same ache of a breaking or broken relationship, the same interminable distance from one person to another even as you sit nearby, or across town. He smiled the way that makes his eyes crinkle and affirmed that this is indeed a preface to that very song from their first album, but written from the perspective of the woman in the relationship, and from a younger time in their story. My favorite line in this new song is "so hold me down if I'm running off." That one slices me, in particular, since sometimes I can appreciate a firm hand on the shoulder and an incentive to "come back."
He also smiled as he said, "And let's call it Fire/Fear, in honor of where it was first recorded." Um, sure. Yes.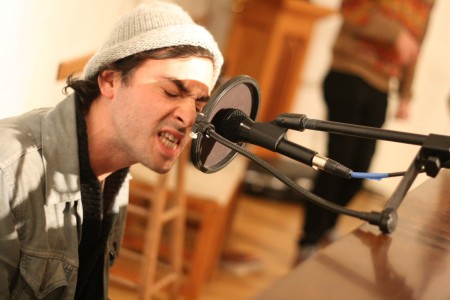 Untitled
The session ended with a nuanced performance of this untitled, unreleased song from Jon. I hope that it is someday called "Not Afraid," because that lyric and that declaration feels like the place in the song where everything hangs for a second, the limbs bend, the constitution is braced. A very early version of this was also part of the first fantastic house show they did for me in November 2010, but this is the only time I'd heard it on the piano, echoing so redolently. The punch infused by the piano is the perfect accompaniment to this song, changing it from a striking campfire song to an irrevocably gutting eulogy. It's getting harder these days.
At the 2:14 mark, this song made my stomach hurt.

This whole session left me reeling, which by now I should be used to for these folks and their music, since the first time I heard them. I'm glad I'm still not used to it, and that they keep furrowing deep and leaving us shimmering.
ZIP: THE HEAD AND THE HEART CHAPEL SESSION #2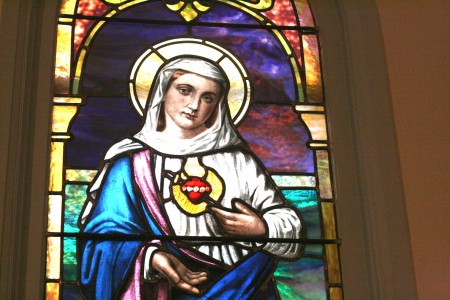 Fitting.

[audio done, as usual, by my favorite talented guys at Blank Tape Records]

31 comments
31 Comments
Sorry, the comment form is closed at this time.